Uncategorized
Carbon, the developer behind the Digital Light Synthesis (DLS) 3D printing technology, has announced the launch of its new and improved M3 series 3D printers.
The firm's latest product line comprises two models, the M3 and M3 Max, and offers improved print speeds, larger build volumes, and higher-quality parts when compared to its predecessors. Paired with the Carbon Design Engine and Carbon DLS materials, the latest systems are suitable for a wide variety of applications in sectors such as automotive, life sciences, dental, and consumer goods.
"With these next-generation printers, design teams across business verticals can create high-quality prototypes with end-use performance quicker and more efficiently than ever before," said Phil DeSimone, Chief Product and Business Development Officer at Carbon. "And once the product development is complete, Carbon's platform enables companies to move to production quickly and efficiently anywhere in the world."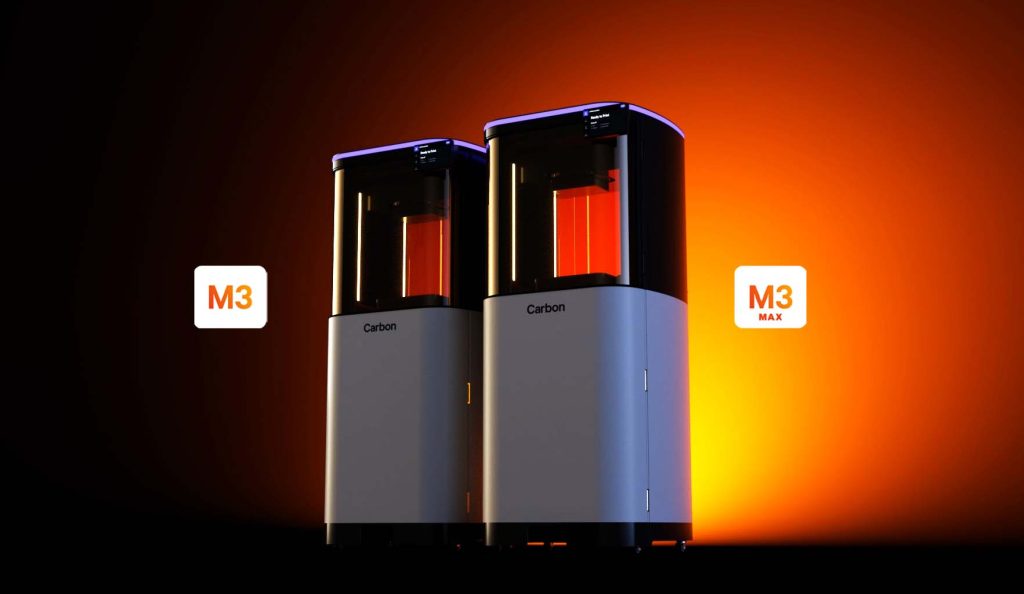 DLS 3D printing with Carbon
DLS is an SLA-based process that uses digital light projections in conjunction with oxygen-permeable optics to cure photopolymer resins into 3D parts. The materials used with Carbon's systems are usually embedded with heat-activated programmable chemistries, enabling engineering-grade mechanical properties and high-resolution features.
Carbon's flagship product line is the M series, which comprises the M1, M2, and now the M3. The M1 is the firm's most accessible offering sporting the smallest print envelope of all, 141 x 79 x 326mm, while the M2 is a mid-range system with a 189 x 118 x 326mm build volume.
The L1 is Carbon's large-format production engine, and features a build volume measuring 400 x 250 x 460mm. This system is primarily used by designers, engineers, and manufacturers seeking large-part or high-volume production.
The M3 and M3 Max
Carbon's new M3 3D printers are designed to combine speed, precision, and ease of use in one comprehensive package. The base M3 model features the same build volume as the M2 (189 x 118 x 326mm) and is the first Carbon printer that can be installed by customers themselves. On the other hand, the M3 Max features a 4K light engine and double the print area of the M3, taking it to 307 x 163 x 326mm. As such, the M3 Max is more suited to large part and small batch production without cutting corners on print quality.
Both M3 3D printers aim to deliver a simplified printing experience when compared to their predecessors. According to Carbon, the suction force experienced by parts between layers is now 40% lower, resulting in few print failures and an overall more user-friendly workflow. The machines also feature an all-new closed-loop force control system, which carefully controls parameters such as print speed on the fly.
According to Carbon, the M3 range is also capable of printing more complex geometries that the company's previous printers struggled with. This is especially true for elastomeric parts and components with intricate feature details that are sensitive to high forces.
Furthermore, the M3 printers come equipped with improved heat management, enabling them to maintain faster print speeds without any detrimental effects on parts. Carbon states that M3 users can expect up to a 250% increase in throughput when compared to the M2.
On the print quality side, early testing has shown that the new systems now deliver smoother parts with a surface roughness reduction of about 1.4µm. Carbon's improved DLS process also reportedly reduces variations in parts across a single build by up to 50%, meaning greater repeatability for the engineering-grade applications that require it.
Technical specifications and pricing
Below are the technical specifications for the Carbon M3 series. The M3 3D printer is available to order now for immediate shipping. The M3 Max is also available to order now, with shipping set to begin in H2 2022.
Carbon will exclusively be offering both systems under its unique subscription-based model. For reference, the M1 has historically been priced at $40,000 a year, while the L1 can be ordered for $250,000 a year. Customers will need to contact the firm to receive a quote on the M3's pricing.
| | | |
| --- | --- | --- |
| | M3 | M3 Max |
| Build volume | 189 x 119 x 326mm | 307 x 163 x 326mm |
| XYZ resolution | 75 microns | 75 microns |
| General accuracy | Up to 65 microns | Up to 65 microns |
| Production repeatability | Up to 37 microns | Up to 37 microns |
Subscribe to the 3D Printing Industry newsletter for the latest news in additive manufacturing. You can also stay connected by following us on Twitter, liking us on Facebook, and tuning into the 3D Printing Industry YouTube Channel.
Looking for a career in additive manufacturing? Visit 3D Printing Jobs for a selection of roles in the industry.
Featured image shows the M3 and M3 Max 3D printers. Photo via Carbon.
Author: KUBI SERTOGLU JANUARY 26TH 2022
Source: https://3dprintingindustry.com/news/carbon-launches-its-new-m3-and-m3-max-3d-printers-technical-specifications-and-pricing-202937/