Uncategorized
Over the weekend Cults, a popular 3D printing model repository and marketplace, was the center of controversy following a thread posted to Reddit's popular 3D printing community r/3Dprinting. Reddit user Bigbore_729 claimed the company owed them ~$212 from model sales and had been denied payment, ignored, and blocked on social media while pursuing the funds. The thread has received over 10,000 upvotes since it was posted last Friday.
The issue deepened when one of Cults' founders, Pierre Ayroles, took to the thread to defend the website, revealing Bigbore's personal information via the user's email address while sharing the company's previous attempts at communication regarding the issue.
The Reddit user, who simply goes by Bigbore on Cults, has sold models for a European deer skull mount, an adjustable stock for a firearm or airsoft rifle, and several chassis systems for a bolt action .22lr. Bigbore has been selling on Cults' platform for about a year, they said, and have earned a total of $763 in sales according to their user page. Since their Reddit post, Bigbore has removed all models from sale on the marketplace. When All3DP asked Bigbore to describe the models they had sold on Cults they clearly stated: "I did not sell actual firearms."
Bigbore explained in a comment to their original Reddit post that, in their time selling models on Cults, they requested payouts monthly "usually around $60-$70 USD," and had never had a problem with the platform until now.
"I have no idea on what I should do here. I just want the money that I made selling my IP," Bigbore said in an earlier post.ADVERTISEMENT
After it was pointed out that Ayroles revealed the user's personal information, the Reddit post was quickly deleted. Cults and its founders took to Twitter to address the matter and have referred to the doxing as a mistake before posting their perspective of the controversy today at length on both the Cults website and subreddit where it had the following to say:
"Recently Cults has been the object of a smear campaign on social networks from a seller who did not accept the rules set by the terms and conditions of the platform…
This designer's 3D models has been reported (through the report system of the platform) once by a customer who bought his design. Also, several community members have contacted him to ask questions about his models or ask for help on his messaging page. None of these clients or prospects received an answer from Bigbore.
Following this report, we contacted BigBore by email asking him to answer to his customers and prospects and then to repair his models before we could payout his sales."
Cults has a policy, stated on its website in a variety of forms (including when users upload models for a fee and on its legal page), that sellers must answer customer queries. "We ask designers for a minimum of follow-up and commitment to respect their buyers and prospects," said Hugo Fromont, another Cults co-founder. He shared that a user had reported Bigbore's design last month and requested a refund. The buyer was told to contact the seller directly via their Cults profile, which Fromont said they did, and then to follow up seven days later when no reply was received. "Some play the game perfectly and are quite professional, others a little less so."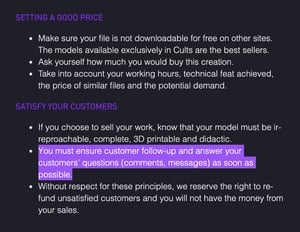 The post is at odds with Bigbore's description of events, who has shared images of replies to a variety of comments on their models with an explanation as to why some were not answered. Though the designer holds they did not receive an email from Cults, they don't believe the marketplace is lying.
"I have not received any emails from Cults about this situation. That doesn't mean they haven't sent them," Bigbore said. "I believe there is an error with our communication at this point, as some users have pointed out… I didn't want any of this to happen. If they had replied to one of my PMs, I would have given them an alternative email and all of this would have stayed private. The whole situation is very uncomfortable for me, even before the doxing. Now it's a huge mess for me and the Cults team and it didn't have to be."
We will when the designer will add the missing part on a model customers paid for. You're spreading false info and you're trusting someone that is clearly lying since the very first message.

— Cults. (@Cults3D) December 17, 2021
The debacle has resulted in a flurry of online criticism towards Cults, including calls to boycott. Cults, in turn, has expressed its regret in revealing Bigbore's private information but holds its position that it is in the right. It expressed that the small team operated by just its three founders is always learning, and will take steps to improve how it handles similar situations in the future. Cults said:
"One of the things we learned from this designer's reaction is that our process of blocking a designer's payments until their customer disputes are resolved is too drastic and can be misunderstood. Therefore, from now on, we will no longer block all of a designer's payments if a dispute is pending, but only the sale(s) related to the customer dispute until it is resolved."
Bigbore has been paid out a sum of 74.50 Euros since their post, which they said they don't intend to convert and transfer to their accounts. They added that they still have not seen any communication directly from Cults, though expressed uncertainty whether it's due to further error.
Following Bigbore's Reddit thread and overwhelming support for the user within, r/3Dprinting has added Cults to its spam filter.
Editor's Note: We'd like to disclose All3DP's monetary connection to Cults, albeit a passive one. Though our editorial team operates independently from our 3D printing service, Craftcloud, users can order parts through our service directly from the Cults website. We strive to achieve unbiased reporting on important community matters and disclose potential conflicts of interest wherever they may be.
source: https://all3dp.com/4/cults-at-center-of-weekend-reddit-controversy/
Author :by Shawn Frey