Uncategorized
f you walked into Frankfurt's annual 3D printing conference, Formnext, and found your way to the first aisle of hall 12.1, you wouldn't be remiss to be reminded of classic Maker Faires. There, tucked past massive industrial-sized, metal, and other professionally-focused 3D printers stood the bold orange Prusa Research booth, its leftmost section – closest to the conference hall's entrance – covered with brightly colored 3D-printed objects and impressive pop-culture models surrounding the lauded Original Prusa FDM 3D printers. Gathered around the display looked to be the conferences largest crowd, donning a much more casual attire than the rest of the large hall's attendees.
Further along the booth, there's a gradual change of tone. A shift that culminates with the enclosed delta printer bearing another company's name, "Trilab", whirring away in front of Prusa Research's founder and CEO, Josef Průša.
"So, what do you think about my new printer?" he said, resting a hand on the machine, beaming.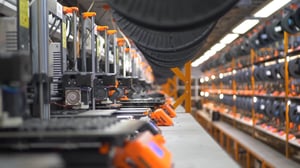 You can mark the progress of Prusa Research in the progression of their Formnext display. Three tables that come across as quaint for a company its size – Deloitte named the company Central Europe's fastest-growing firm in 2018 at 17,811% with 33 million Euros in 2017 revenue – mark the company's gradual acquisitions that have immersed it into professional 3D printing. First past the original FDM printers being the SL1S Speed, the latest MSLA 3D printer to stem from Prusa Research's 2018 acquisition of Futur3D, next to the Medical One, a medically certified iteration of the SL1S Speed. And last, on the rightmost table, the AzteQ: Trilab's latest product, released before Prusa Research acquired an 80% stake in the company on November 15.
Unlike Futur3D's resin product, there's no plan to bring Trilab directly under the Prusa Research brand.
"Trilab is already an established company; they're aiming for a different demographic which might be quite difficult for us to enter," Průša said. "If we tried to make a more industrial-focused printer it would cost 5000 euros. I think our community wouldn't be very receptive, so we think it makes much more sense to do it this way."
In the acquisition announcement, Prusa Research notes that Original Prusa machines are open source while specifying Trilab's printers won't be brought under the label. All3DP reached out to Prusa Research to ask if this means Trilab, now a Prusa Research Company, won't be beholden to the parent company's open-source policy; the company has yet to respond, but we will update this article if and when an answer is received.ADVERTISEMENT
Trilab was founded by Vojtěch Tambor and Michal Boháč in 2016. Tambor, a former biomarker researcher, ventured into 3D printer engineering after realizing the value of additive manufacturing in research and development applications. Boháč, who previously founded and managed a Czech subsidiary of Bruker – a scientific instrument manufacturer – had previously tried to recruit Tambor, but instead joined together to co-found Trilab.
"He was a great scientist but not suited for a corporate middle-management position," Boháč laughed, "and I realized that maybe I'd be better off doing something else, too – so, together, we started Trilab."
The company's first publicly available 3D printer, the DeltiX, an open-volume delta kinematic system, was released in 2017 and was soon followed by the DeltiQ in 2018. Its latest, the actively heated AzteQ, launched just this year.
As a fellow Czech company in the 3D printing industry, TriLab and Prusa have had dealings for some time. Prusa Research has used Trilab hardware within its vast, bespoke factory, and there have even been past discussions of investment.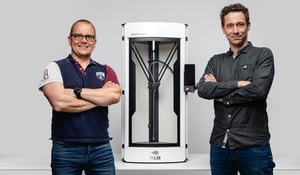 "In 2019 we decided to sell 10% of the company shares to accelerate the release of two new products," Boháč said. According to him, the company was valued at about $3 million at the time. Prusa and Trilab spoke then about the possibility of acquiring stakes, but the timing wasn't right. "Jo said he would invest, but only for a clear majority. At that time, that wasn't what we were looking for."
But when the global pandemic struck in 2020, Trilab felt stuck. A complete transition to online marketing saw the heavily research-driven company fall behind in less familiar territory and became a hit to global business. It wasn't alone; even some suppliers for Trilab's integrated hardware folded after the pandemic began. In one such case, Trilab was forced to re-create its printer's remote drive hardware internally – a hybrid extrusion system that offers the best of both worlds between direct and Bowden extruders by placing the motor on a printer's frame but keeping gearing within the print head.
"At the beginning of 2021, we realized that if we were to expand into more markets and accelerate our growth, we needed a strategic partner," Boháč said. "After months of negotiations with many foreign companies, we came to a somewhat surprising conclusion: the best solution is to join forces with another Czech company – Prusa Research."
The paperwork for Prusa's majority ownership of Trilab was signed on Monday, November 15, en route to the global 3D printing industry conference from the home of both companies in Czechia.
"We packed up our things for the show and stopped at Prusa Research HQ on the way to Germany. We got out to sign the papers and changed for some photos," recalled Tambor, laughing alongside Boháč. "We had to let our partners know before the media. So, on the way to Frankfurt, I was driving, he was typing, then we switched. Everything worked out better than we could have imagined."
"We were negotiating for the last three months," Josef Průša said, speaking to how Formnext presented an opportunity to reveal the new partnership "everything was culminating to it, and I said this is a nice chance."ADVERTISEMENT
Though Prusa Research still holds that it's aimed towards hobbyists, its latest acquisition is just one more way it's shifting to the professional side of the 3D printer business.
Tucked in the back of its Formnext booth, behind both the Trilab AzteQ and Original Prusa Medical One was the iX: a CoreXY module for the Prusa Automated Farm System (AFS), a self-descriptive technology for automated additive manufacturing at scale currently on display at Dubai Expo. The day after Prusa spoke with All3DP, the Original Prusa XL was also revealed – a tool-changing compatible system starting at ~$2000 without the tool changer module, an entry price shared by the company's latest resin 3D printers.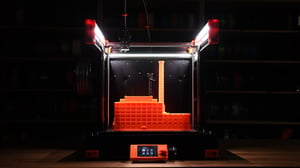 Aside from the expanding market focus for its printers and manufacturer acquisitions, Prusa Research has ever-growing in-house production for seemingly every facet of 3D printer manufacturing and the 3D printing market. In 2018 it released Prusament, a line of 3D printing materials. This year, it plans to add injection molding – admirably repurposing waste material from its print farm – and PCB assembly in-house. The company also maintains its own slicer software, PrusaSlicer, a branch of the open-source Slic3r, and manages a free online model repository, PrusaPrinters.org.
Author: by Shawn Frey
Published Dec 2, 2021
Source:https://all3dp.com/4/how-prusa-met-trilab-prusa-researchs-latest-acquisition-and-professional-direction/