Uncategorized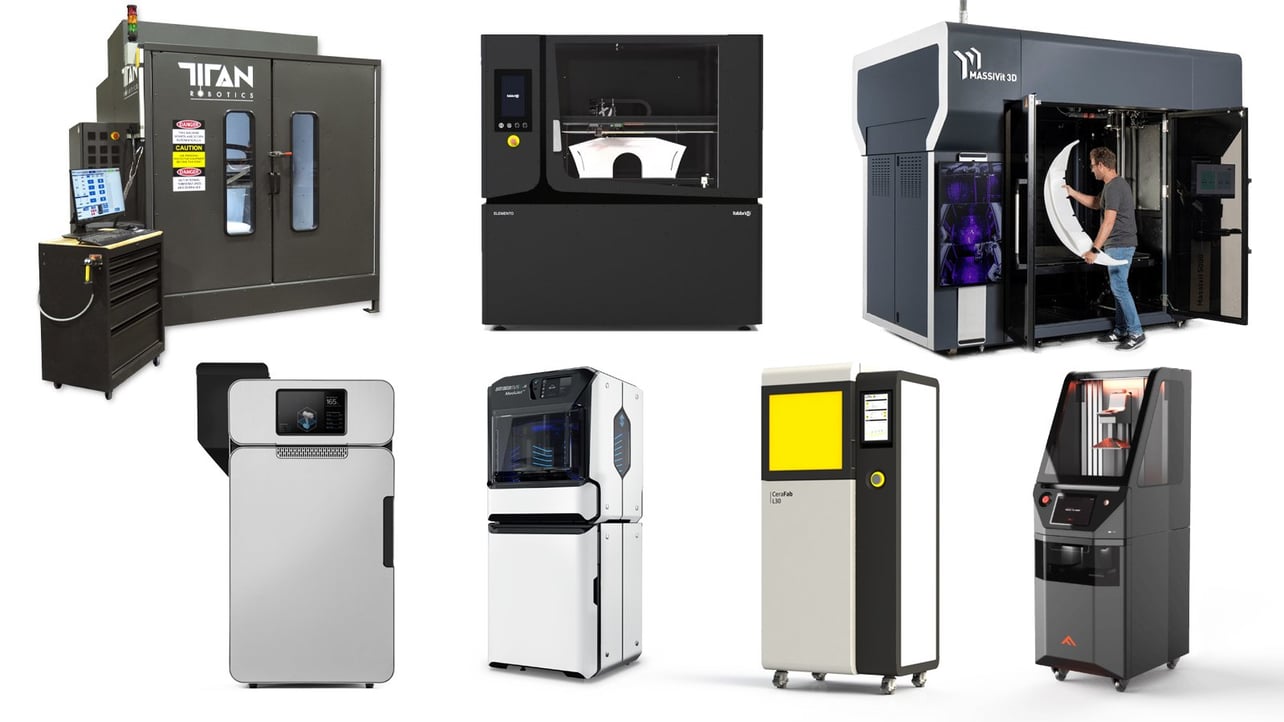 This article is free for you and free from outside influence. To keep things this way, we finance it through advertising and shopping links. If you purchase using a shopping link, we may earn a commission. Learn moreJust Launched!
New Professional 3D Printers in 2021
by Carolyn Schwaar
Updated Dec 21, 2021ADVERTISEMENT
Stay up to date with the latest advancements in 3D printers with our weekly updated list of product launches in professional and industrial additive manufacturing.CONTENTS
Spanning all printer technologies and industries, our list of all the latest printer launches is your one-stop-shop for the newest machines from around the world. Check back every week.NEW PROFESSIONAL 3D PRINTERS
New Bio 3D Printer Builds at the Nano Scale
(Dec. 16, 2021) Nanoscribe and Cellink, two subsidiaries of biotech company BICO, this week unveiled a new bio 3D printer, the Quantum X bio.
As part of the Nanoscribe Quantum X platform, the Quantum X bio is a bioprinter capable of submicron printing resolution using two-photon polymerization technology. Applications for the Quantum X bio range from tissue engineering to cellular research.
The Quantum X bio provides researchers the ability to adjust print resolution to fit their designs, allowing them to control details down to 100-nanometer precision, according to Nanoscribe. Specialized pre-installed software, DeScribeX, enables 3D printing from 3D CAD models or from a library of proven STL models in just a few steps.
BICO says the Quantum X bio will drive advancements in live cell printing. Printing with living cells in the resin is a major challenge because cells are typically under stress while being processed and residing inside the printer, the company says. Quantum X bio is equipped with live cell printing features such as sterile, temperature-controlled environment, and a cell-friendly laser wavelength.
In related news, the US government is currently considering new legislation that would remove the mandate to test drugs and cosmetics on animals, and instead allow other methods, including the type of human cell environments enabled by bio 3D printers.ADVERTISEMENT
Origin One Dental Now Available from Stratasys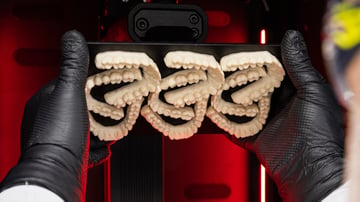 (Dec. 15, 2021) 3D printer manufacturer Stratasys debuted the Origin One Dental this week, which is the second 3D printer resulting from its acquisition of Origin last year.
Powered by an DLP-style proprietary print technology called P3 Programmable PhotoPolymerization, the Stratasys Origin One Dental is a 4K resin printer that boasts high accuracy, consistency, and throughput. It's an open material printer capable of producing a variety of dental models, splints, and surgical guides. The build volume is 192 x 108 x 370 mm.
Stratasys is one of the only additive manufacturing companies offering a variety of 3D printing technologies to dental labs where each printer presents an additive manufacturing solution for a different type of production need. The Stratasys J5 DentaJet is aimed at large batch printing, especially when printing mixed trays of parts overnight or unattended.https://www.youtube-nocookie.com/embed/AwNe4dcgyxA?feature=oembedADVERTISEMENT PROFESSIONAL 3D PRINTERS
Nexa3D's New XiP MSLA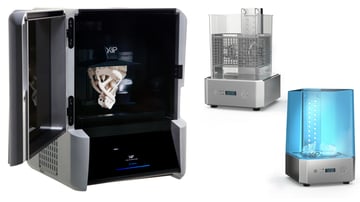 (Nov. 20, 2021) Among the surprises unveiled at the Formnext trade show last week was a desktop size SLA from Nexa3D, the Xip. Booth staff at the event even had to hide the units under a table to keep them out of sight until their official launch ceremony, which, not surprisingly, attracted a sizable crowd.
The most attractive aspect of the Xip is that, while not being exactly a mini version of Nexa3D's industrial resin printers, it does take many of the features and delivers them in a smaller package. Typically we see 3D printer manufacturers, such as Formlabs and Asiga, moving in the opposite direction, offering larger and larger printers as they pursue more throughput and production.
Nexa3D says customers were asking for not only a lower-cost machine but a version of their industrial machines to use for prototyping and then move to the larger versions (NXE 400 or NXD 200) for final production. This enables the industrial designers to prototype on a machine very similar to what's on the shop floor using the same materials, software, and settings.
As with all things Nexa3D, the focus of the zippy Xip is speed. The company says top speed is 18 cm/hr.
The Xip is a 4K resolution MSLA, with a 190 x 120 x 170 mm build volume. It comes with a host of quality-of-life features that all desktop resin printers should offer but don't. For example, interchangeable resin vats that you can put a lid on and stack up for use later like leftovers in Tupperware. The XiP is also an open-material platform currently compatible with resins from Henkel, BASF, and Keystone, among others. The resin cartridge system lets you load and unload material on the fly even during a live print job.
Setting it apart from a lot of desktop-size MSLAs, the Xip design is highly modular and all wear items are replaceable without tools. Nexa3D is also offering a space-saving all-in-one wash and cure station.
XiP's software, NexaX, generates customizable support structures, and has features to hollow parts and create internal lattice structures.
The XiP is not yet available, but you can join the waiting list. Nexa3D expects to ship in Summer 2022 starting at $5,999.ADVERTISEMENTADVERTISEMENTNEW PROFESSIONAL 3D PRINTERS
Shining 3D's New AccuFab-L4K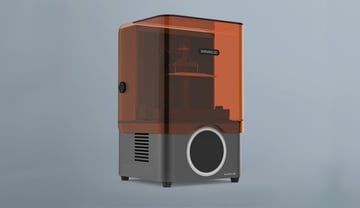 (Nov. 18, 2021) Shining 3D launched its new high-precision resin 3D printer at Formnext. The AccuFab-L4K improves prototyping efficiency and shortens the new product development lifecycle, the company says.
The printer prints with Shining and open materials, including bio-compatible resins and water washable resins, and 3rd party materials.
The light source is UV LED plus LCD and the AccuFab-L4K has a print volume of 192 x 120 x 180 mm.ADVERTISEMENT
Top 3D Printers Launched at Formnext 2021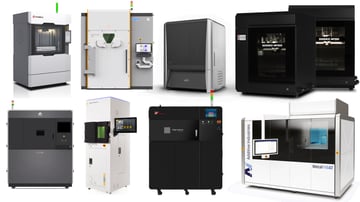 If launching your new 3D printer was a competition for which company could create the most buzz at the Formnext additive manufacturing trade expo this past week, the prize could go to Markforged's FX20, Nexa3D's Xip, or Sinterit's Liza X, or even the impressive 3DGence Element or the Raise3D RMF500.
However, judging from the shoulder to shoulder crowds pushing to get a glimpse, I'd have to say Prusa was the crowd pleaser. Why was a consumer desktop FDM so popular? I'd venture to guess that quite a few professionals in additive manufacturing have Prusas at home. Yet, at $3,500 the new Prusa five-extruder XL is blurring the line that used to divide consumer and professional machines, especially when it comes to prototyping.
Another reason Joe Prusa and his crew were at Formnext was to announce their acquisition of professional 3D printer maker Trilab, which I'm sure we'll be hearing more from in 2022.
From acquisitions, to new materials, new software, and especially new printers, the list of who didn't have news at Formnext might be shorter. Below is a look at some of the most promising printer debuts, yet very few of these are currently available. They'll be rolled out with more detail in 2022 and we'll add them to our new printer guide here.
New FDMs Coming Soon
If there was a theme to the new FDM printer launches at Formnext 2021, it was metal. Not only did 3DGence announce its new venture into offering a metal 3D printer that uses proprietary bound powder rods, but it revealed that it will also have a debinding and sintering solution later this year to round out a full 3DGence metal production package.
Another bound metal powder filament 3D printer debut came from the Belgium-based start-up FuseLab. The company's FL300M features independent dual extruders, an open filament system, a heated bed to 110 ºC and a HEPA filter. With a generous 340 x 300 x 280 mm build volume, it's clearly aimed at Markforged's audience, but its advantage may be that it can print metal and polymers. No availability date was announced for the FL300M.
The BCN3D booth at Formnext featured a display of metal parts that can now be printed on the company Epison printers outfitted with a new "Metal Pack", which includes a collection of accessories and metal Ultrafuse metal filament.
After metal, Formnext exhibitors offered up a collection of impressive new high-temperature FDM printers. Raise3D showed off its first foray into engineering-grade polymer processing as did Markforged, while WASP relaunched its PEEK-compatible 4070 Tech as an upgraded 4070 TX.
Large-format 3D printer manufacturer BigRep relaunched its popular Pro and One printers with new hardware, software, and material capabilities. The BigRep Pro now features a removable and flexible print bed surface that eliminates the need for glues and removal tools. Also new is an auto-calibration feature called MXT Controls System. The One now features the ability to select single, dual, or twin extruder modes plus add-ons like an enclosed housing and you can even pick the printer's color.
| | | | |
| --- | --- | --- | --- |
| Brand | Printer | Technology | Features |
| 3DGence | Element MP260, MP350 | FDM (Metal) | Metal FDM printer in two sizes with debinding unit and furnace to come. |
| Raise3D | RMF500 | FDM | High-temp, carbon fiber, large-volume, IDEX |
| Markforged | FX20 | FDM | High-temp, continuous carbon-fiber reinforced Ultem |
| WASP | 4070 TX | FDM | High-temp delta, can process PEEK |
| BigRep | Pro, One (relaunch) | FDM | New hardware, software, and material capabilities |
| FuseLab | FL300M | FDM (Metal & Polymer) | IDEX, open-material metal FDM printer |
| Prusa Research | Original Prusa XL | FDM | 5-extruder toolhead, heated bed, optional enclosure |
New SLAs Coming Soon
The big news in resin printers was the desktop machine now available from Nexa3D. Known for larger-volume industrial machines popular in the dental market, Nexa3D said the new, smaller Xip was developed in response to customer demand from companies priced out of the larger machines and those who want a smaller version of the Nexa3D technology for the prototype lab, while having the larger printers on the shop floor.
Creating buzz at Formnext for a new take on resin technology was the start-up Axtra3D, founded by Gianni Zitelli who was a co-founder of Nexa3D. The company's Lumina 3D printer combines resin technologies so the core of a part is printed quickly with DLP while the outer shell is printed with finer detail using SLA. The Lumina is still in beta testing.
Not to be overlooked, Shining 3D added to its lineup of SLA printers with the new AccuFab-L4K.
| | | | |
| --- | --- | --- | --- |
| Brand | Printer | Technology | Features |
| Nexa3D | Xip | SLA | 4K resolution, high-speed, desktop size |
| Shining 3D | AccuFab-L4K | SLA | 4K resolution, large-volume, desktop size |
| Axtra3D Lumia (Start-Up) | Lumia | SLA/DLP | New tech combining high-resolution SLA with speed of DLP |
New SLSs Coming Soon
Judging by the new SLS printers debuting at Formnext, the technology is getting faster as it chases the volume-production promise land.
Although Sinterit made a splash with its newest addition to the Lisa line of compact SLS printers, the Lisa X, printers on the industrial scale were equally impressive. 3D Systems new SLS 380 is designed "for those who want to take the next step in integrating additive manufacturing into their factory-floor ecosystem," the company says. Bringing new technology to the quest for truly uniform and repeatable batch processing, the SLS 380 offers eight separately calibrated heaters, together with an integrated high-resolution infrared camera that captures more than 100,000 thermal data samples from within the build chamber per second.
The new Nexa3D QLS 350 is the company's first SLS printer but keeps with the company's overall quest for speed in additive manufacturing. The QLS 350 boasts an eight-liter per hour build rate – more than twice that of the 3D Systems – in an open-material platform.
| | | | |
| --- | --- | --- | --- |
| Brand | Printer | Technology | Features |
| 3D Systems | SLS 380 | SLS | 2.7 l/hr build rate |
| Nexa3D | QLS 350 | SLS | 8 l/hr build rate, 4x 100-W CO2 laser |
| Sinterit | Lisa X | SLS | Compact, 10 mm/hr build rate, 1x 30-W IR laser |
| XYZprinting | MfgPro236 xS | SLS | 22 mm/hr build rate, 1x 60-W CO2 laser |
New Metal Printers Coming Soon
Massive metal 3D printing systems are the giants of the show every year and attendees marvel at the 3D printed heat exchangers, manifolds, and other tools and spare parts on display. This year, the more familiar names launched new printers.
Xact Metal wants to bring 3D printing to a wider audience with its flexible XM200G series available in a choice or single and dual fiber laser powers. Additive Industries is chasing production with a new MetalFABG2 that it says offers "double productivity compared to previous models." Scant details are available currently so you can expect a late 2022 rollout of this new machine.
The new printers from 3D Systems, the DMP Flex 350 Dual and DMP Factory 350 Dual, offer all the bells and whistles you know from 3D Systems but are about 50% faster the company says.
| | | | |
| --- | --- | --- | --- |
| Brand | Printer | Technology | Features |
| Xact Metal | XM200G & G2 | PBF (SLM/DMLS) | Single or dual 100, 200, or 400-W Yb fiber lasers, open material platform |
| Additive Industries | MetalFABG2 | PBF (SLM/DMLS) | Tech sheet not available yet, smaller than their other printers |
| 3D Systems | DMP Flex 350, DMP Factory 350 | PBF (SLM/DMLS) | 1 or 2x laser configuration, 275 x 275 x 420 mm, vacuum chamber |
Sinterit Launches the new SLS 3D Printer Lisa X.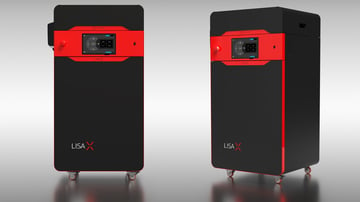 (Nov. 15, 2021) The new polymer, compact SLS printer from Sinterit, the Lisa X, is ten times faster than its predecessor, the Lisa Pro, the company says. It boasts a build speed of 10 -14 mm/h PA12 and a full bed of complicated parts printed in 34 hours.
The new Lisa's larger build volume (180 x 130 x 330 mm) means it may not fit on your desktop, but it's still aimed at small and medium-sized companies. Sinterit hopes the Lisa X will lure designers and engineers away from FDM with its low price and easy-to-use interface.
The Lisa X offers 32 parameters you can control, including the print temperature, warm-up and cool-down and laser power, so you can experiment with a wide range of material powders outside of ​​Sinterit's own PA12, PA11, TPE, and seven others.
Sinterit launched its industrial size SLS (200 x 200 x 330) in September, the NILS 480, making this Lisa X a machine that can bridge the gap between desktop and production SLS.
The price hasn't been released, but we estimate you should expect it to be around $40,000 – $50,000.https://www.youtube-nocookie.com/embed/-pFRhGU1dTw?feature=oembedADVERTISEMENT
Raise3D Launches Metal 3D Printing Ecosystem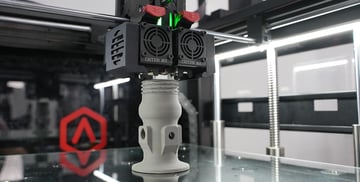 (Nov. 2, 2021) California-based 3D printer manufacturer, Raise3D, just launched an end-to-end metal 3D printing package that includes a printer, a debinding machine, a sintering furnace, software, and materials.
The system is designed to bring metal 3D printing to customers priced out of current industrial metal 3D printing options or metal injection molding, or those looking for an office solution without loose metal powder. Possible applications range from tooling, jigs and fixtures, functional parts and prototypes, at a lower cost of ownership.
Raise3D is calling the package MetalFuse and it includes a new printer called Forge1, a catalytic debinder (the D200-E), a sintering furnace (the S200-C), a new version of their software called ideaMaker Metal, and metal filament from BASF Forward AM.
The familiar Ultrafuse metal filament offerings from BASF Forward AM, which come in 316L and 17-4PH stainless steel, have been gaining attention in the industry lately, but if you print with them on, say, your Ultimaker, you have to ship your parts to a third party for post-processing.Goodbye PlasticMetal Filament for Real Metal Parts: All You Need to Know
Raise3D worked with BASF Forward AM to optimize the MetalFuse platform from software to sinter.
The new Forge1 is a dual extruder machine based on Raise3D established technology with a print volume of 255 x 300 x 300 mm (or 300 x 300 x 300 mm using a single extruder), a 300 ºC nozzle, heated bed to 120 ºC, 7-inch touchscreen, and a live camera.
The Raise3D debinder D200-E uses a catalytic debinding process based on oxalic acid, which is cheaper, safer, and more environmentally friendly than nitric acid, and faster than solvent and thermal debinding. The sinter furnace can reach 1,450 ºC and hold a volume of parts equal to 200× 200× 200 mm.
Raise3D will start delivering Raise3D MetalFuse in the first half of 2022 and the Forge1 will be available separately. We couldn't get Raise3D to tell us how much the MetalFuse system will sell for, but we're expecting it to be one of the most affordable end-to-end solutions for metal parts on the market.ADVERTISEMENT
Markforged FX20 Now Reinforces Ultem with Continuous Carbon Fiber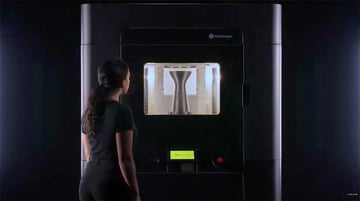 (Nov. 1, 2021) The new FX20 is by far Markforged most ambitious industrial-grade 3D printer. It's bigger, faster, and the company says "more sophisticated" than the rest of the Markforged family.
Setting it apart is its ability to print with high-temperature Ultem 9085, a flame-retardant, high-performance thermoplastic used to create tools and end-use parts in aerospace, automotive, and heavy industry.
Although you have several options on the market if you're looking to print with Ultem filament, the FX20 may be the only one that can reinforce the already strong Ultem with continuous carbon fiber. The FX20 also can print with the full line of Markforged materials.
Markforged says the FX20 is the most precise machine the company has ever produced and it's massive compared to the rest of its family. Its turbo mode builds parts faster than any other Markforged machine. New XL spools offer four times the material without spool changeover.
The FX20 features a 525 x 400 x 400 mm build volume, a 7-inch touchscreen from which users can control every aspect of the printer. Automated calibration and leveling reduce operator input, while a wide variety of sensors give live feedback on machine performance. A material bay contains two active XL spools and can store two more with precise moisture control.
The FX20 runs on the Eiger software and there's no news yet if Markforged's Blacksmith software is available for the FX20.
The FX20 and Ultem 9085 filament are expected to ship worldwide in the first half of 2022 and we should hear a market price for the unit soon. Check out our Markforged brand page for the latest as it come available.Everything MarkforgedMarkforged Carbon Fiber & Metal 3D
Essentium's High-Temp, Smaller-Size Industrial FDM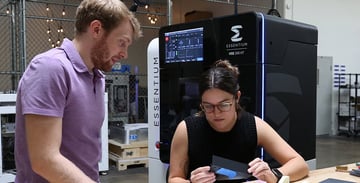 (Nov. 1, 2021) Texas-based industrial 3D printer manufacturer, Essentium, launched its second new printer of 2021, the HSE 240 HT Dual Extruder.
After launching the 280i HT in May aimed at high-volume factory customers, the new smaller 240 HT is focused on more cost-efficient AM production. The industrial FDM has a smaller footprint yet features all the specs for 3D printing with high-performance materials, including a 550 ºC nozzle, a 185 ºC build chamber, and an open materials platform.
The 240 HT's single dual-extrusion print head (as opposed to the 280i's IDEX) is designed to maximize efficiency of parts production within a small footprint, the company says.
With a 430 x 350 x 405 mm build volume, Essentium hopes the 240 is compact enough to appeal to small and medium-sized factories and university labs looking to produce small-volume parts and prototypes. It features automatic filament switching to reduce downtime, creating more parts in a compact environment.
The "HSE" in the name refers to high-speed extrusion, and Essentium says the 240 is also easy to use. The price of the new printer hasn't been announced, but it's expected to be less than the 280i, which retails between $150,000 and $200,000.ADVERTISEMENT
FlashForge's New Large, High-Temperature FDM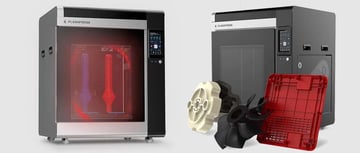 (Oct. 22, 2021) A new independent dual extruder (IDEX) filament 3D printer from Chinese manufacturer FlashForge launched a bit under the radar at the TCT Asia trade show in China back in May, but is now available worldwide. The Creator 4 IDEX is an upgrade to the company's Creator 3 on several levels.
The Creator 4 boasts a more advanced temperature control management system, which can more accurately control the printing of engineering-grade filaments. Although a nozzle change is required to accommodate different material types, the printer can handle polycarbonate, Nylon, TPU, and a range of carbon fiber-filled polymers.
The Creator 4's chamber is surprisingly spacious at 400 x 350 x 500 mm, which is larger than the Creator 3 and other industrial FDM machines from CreatBot and 3DGence. The chamber can consistently hold 65 ℃.
Featuring some extras, such as a HEPA air filter, a 7-inch smart touch screen, built-in-camera with remote control, typically seen on printers that cost far more, the Creator 4 maybe an ideal entry point to industrial FDM for a wide range of small businesses.
FlashForge has not yet announced a price for the Creator 4, but the smaller Creator 3 retails for around $3,000.ADVERTISEMENT
Large-Format Mold & Tool Maker from Massivit 3D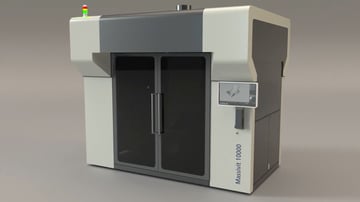 (Oct. 20, 2021) Massivit 3D Printing Technologies, an Israel-based global 3D printer manufacturer that offers three very large-scale 3D printing systems, this week announced a new but narrowly focused machine, the Massivit 10000. The company's latest printer is designed to tackles one problem: the time consuming and expensive way large-scale molds and composite tools are created in various industries, such as marine, automotive, railroad, consumer goods, sporting goods, and aerospace.
Here's how it works; a tool or mold pattern is 3D printed using both a UV-curable gel and a thermoset engineering material. The gel forms two outside walls of the mold and the engineering material is extruded in between filling the cavity. Once the tool is immersed in water, the sacrificial pattern material breaks off, leaving the desired mold behind, ready to use. The new technology eliminates the need to create an initial template.
Massivit is calling this technology Cast-In-Motion because it combines fast additive manufacturing with the direct casting of the industrial-grade material. Benefits, according to Massivit, include more design freedom in mold production with intricate geometries and the CAD file to mold enables improved accuracy and consistency.
The Massivit 10000 can produce tools and molds in a range of casting materials and the company plans to expand its new technology into several fiber-reinforced plastic composites.
The new Massivit 10000, which will launch in 2022, offers a construction volume of up to 1.2 x 1.5 x 1.65 meters.ADVERTISEMENT
Zaxe's Z3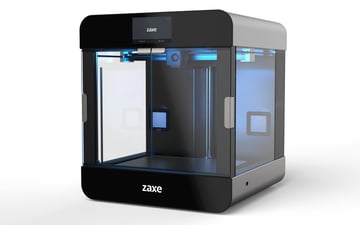 (Sept. 22, 2021) Not well known outside of Turkey, 3D printer manufacturer Zaxe is set to launch its first industrial FDM printer worldwide. The Z3 is the company's largest printer to date and comes with many of the bells and whistles you'd expect from a professional FDM priced around $3,000.
Featuring a 400 x 300 x 350 mm build volume and a 7-inch touch-screen display, this single-extruder 3D printer comes with a built-in wide-angle camera and filament sensor. Its hot end is capable of reaching 280 ºC which makes it capable of handling industrial filaments (only in 1,75 mm), including Nylon and metal-filled. The Z3 comes with auto-calibration, a HEPA air filter, plus it is fully enclosed and passively heated.
Zaxe, founded in 2015, is just the latest one among a host of 3D printer manufacturers who say they are venturing into most affordable end of the professional printer spectrum out of customer demand.ADVERTISEMENT
Nanoscribe Quantum X Shape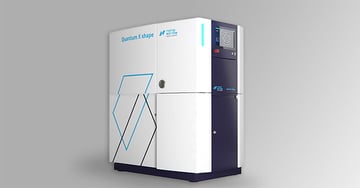 (Sept. 15, 2021) Nanoscribe, as the name implies, makes 3D printers that print tiny things for research lab and industrial manufacturing processes, such as microfluidics and microelectromechanical systems. Their new Quantum X Shape is a high-precision 3D printer for microfabrication and wafer-scale batch production.
Based on two-photon polymerization (2PP) technology, this laser-lithography system can print virtually any 3D shape with submicron precision of 0.0001 mm, accuracy of 0.0002 mm, and a maximum print area of 50 x 50 mm². The Quantum X Shape features a voxel modulation rate and 100-nm address grid; galvo trajectory control; interface finder for transparent, opaque and reflective surfaces with nanometer precision; and a broad range of substrates and wafers up to 6-inches.
As for speed, Nanoscribe says the Quantum X Shape can batch process 200 typical mesoscale structures printable overnight. Materials include a range of photoresins and third-party and custom materials.ADVERTISEMENT
BMF's MicroArch S230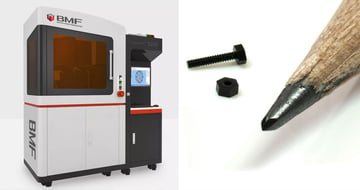 (Sept. 14, 2021) Boston Micro Fabrication, better known as BMF, this week unveiled the MicroArch S230 resin 3D printer. It's the third printer in the company's series of ultra-high resolution (2 micron) printers. However, setting it apart from the others is the ability to print in ceramic as well as photopolymers, plus it has a larger build size (50 x 50 x 50 mm) and it's five-times faster.
The printer uses BMF's patented Projection Micro Stereolithography (PµSL) technology, a technique that allows for rapid photopolymerization of an entire layer of liquid polymer using a flash of UV light at micro-scale resolution.
Additional features of the MicroArch S230 include active layer leveling, automated laser calibration, and the capacity to handle higher molecular weight materials with viscosities of up to 20,000 Cp, resulting in the production of stronger functional parts. The printer is compatible with a growing portfolio of engineering and ceramic resins suitable for end-use parts, including Alumina Ceramic, HT 200, and Magnesium Titanate Ceramic.
"The miniaturization trend continues to dominate nearly every industry, but as parts get smaller, they become harder to design, more expensive to manufacture, and generally more complicated to put into production," said John Kawola, CEO of BMF. "We changed that notion and brought 3D printing to industries that once deemed it impossible."ADVERTISEMENT
New SLS Printer from Sinterit Aims at Cost-Effective Production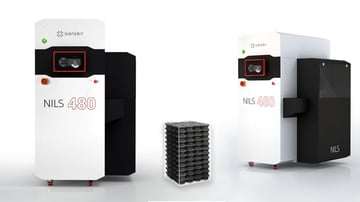 (Sept. 9, 2021) It's not surprising that SLS printer maker Sinterit has come out with a larger and faster polymer selective laser sintering 3D printer. After all, it had been making two of the smallest and most affordable SLS printers for years, the Lisa and Lisa Pro. Countless manufacturers and companies entered additive manufacturing with their Lisa printers, and as the market grew, so did Sinterit with the introduction of its new NILS 480.
Sinterit says the NILS 480 delivers industrial speed (full bed printing in 30 hours) and size (200 x 200 x 330) enabling you to print, for example, a whole shoe, housing of most electronic devices, or a whole arm orthosis.
The NILS 480 includes many of the features that made the Lisa Pro so popular, including a wide range of material options from PA12 to PP to TPU, plus third-party powders; an open parameter environment with more than 50 settings to control; and intuitive software.
Although Sinterit isn't disclosing the price of the new printer until its webinar next week, we can guess that the company aims to make it affordable and likely priced competitively against the Formlabs Fuse 1, which is $18,499.
The NILS 480 will become available to customers in early 2022.
New LCD Resin Printer from Photocentric, Its Fastest Yet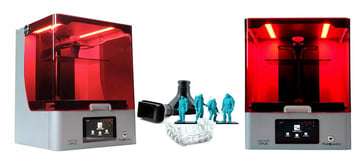 (Sept. 8, 2021) Photocentric launched a new desktop resin printer called the LC Opus, which is smaller, but faster than the company's popular LC Magna. The LC Opus prints at 18mm per hour and has twice as fine a resolution (XY resolution of 81 microns) as the Magna.
As you may know, LCD resin printers are typically faster than SLA printers because they use an array of UV LEDs as a light source shining directly onto the build area via a screen. The LC Opus boasts a 356-mm monochrome 4k LCD screen.
The LC Opus, which is pretty large at 310 x 174 x 220 mm, comes pre-calibrated and ready to print out of the box. The company says it is focused on reliability and repeatability with a rugged aluminium machine that's intuitive and simple enough to operate that it's ideal for both beginners and experienced users across a broad range of applications.
LC Opus features a 178-mm control touchscreen, self-cleaning vat option, easy-replace LCD screen, and retails around $9,000.
Acknowledging that its biggest market is dental, the LC Opus will be officially unveiled at the International Dental Show in Cologne, Germany, later this month. One feature dental practitioners may appreciate is its ultra-quiet fans that provide cooling for the high-powered LEDs.ADVERTISEMENT
Medium-Format Metal Production With Farsoon's New FS273M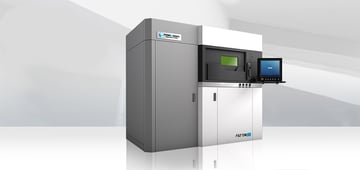 (Sept. 7, 2021) Farsoon, the large Chinese 3D printer manufacturer, aims to cover all the bases of metal printing with a wide range of printer sizes. Its latest, the FS273M laser powder bed fusion, is what the company is calling the evolution of its older and smaller FS271M, launched in 2015. The company spent six years optimizing the productivity and performance of the machine, it says, while pushing to reduce costs.
The FS273M has a large build volume (275×275×355 mm) and dual fiber lasers (2 × 500W) or a single 500W fiber laser. Other new features include a brand-new re-coater design that enables faster speed and more stable powder delivery throughout the whole manufacturing process, a preheated base-plate, removable overflow containers, and a back-up powder supply sufficient for a full build.
The FS721M is an open platform system, which means that all machine parameters are unlocked for the user as well as an open material policy. Currently the machine is compatible with stainless steel 316L, TA15, Ti6Al4V, AlSi10Mg, copper, maraging steel, and others.
Not quite ready for prime-time the FS273M is open for early adopter program application. Customers interested contact Farsoon at globalinfo@farsoon.com.ADVERTISEMENT
Raise3D Launches a Feature-Packed New Desktop FDM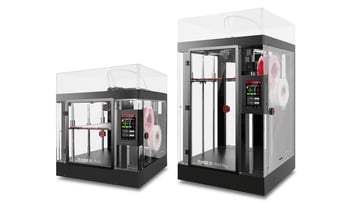 (Sept. 1, 2021) Raise3D, the maker of desktop extrusion 3D printers, just launched the Pro3 dual-extruder FDM 3D printer (in two sizes) that packs an impressive number of industrial-level features into a unit priced at only $5,249.
The Pro3, with a build volume of 300 x 300 x 300 mm, features a long list of upgrades and enhancements from the company's popular Pro2 printer, including interchangeable modular hotends that can be swapped out with a quick click-and-lock mechanism. The hotends can reach 300ºC, so they're compatible with a wide range of engineering-grade materials from Nylon to metal-filled filament.
Other new features: automatic bed leveling, an air flow manager with HEPA filter that improves heat dissipation and air circulation inside the print chamber, and a smart assistant called Eve that helps you to locate and resolve print job issues. Eve also analyses printer usage and sends reminders of scheduled interventions to ensure you don't forget essential printer maintenance.
In addition to these new features, Raise3D increased the printer's Z-axis rod stiffness by 75% to deliver more stable performance, the company says, and added an HD camera with enhanced image quality and exposure sensitivity so you can track your prints.
The Pro3 Plus ($7,249) has a slightly larger build volume (300 x 300 x 605 mm) and features all of the same enhancements as the Pro3.ADVERTISEMEN
Raise3D's New E2CF 3D Printer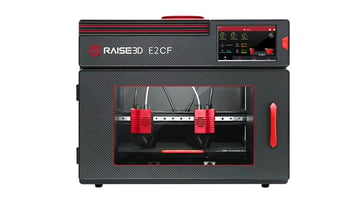 (Aug. 5, 2021) Just released from Raise3D is the company's new printer for fiber-reinforced materials and is optimized for carbon fiber carbon. The E2CF is an independent dual extruder printer with a build volume of 295 × 240 × 240 mm and a layer height of 10 microns. The extruder nozzle can get up to 300 ºC and the build plate maintains a comfortable 110 ºC.
The E2CF aims to meet the needs of engineers in automotive, aerospace, and healthcare, who need to produce parts with a high strength-to-weight ratio and have consistent high performance during long-term operations.
One especially nice feature is the standalone dry boxes. To ensure a stable printing process, the E2CF is equipped with two standalone sealed dry boxes developed by Raise3D to deal with the high water-absorption of nylon and fiber-reinforced filaments. These dry boxes are attached to the printer, allowing the materials to be kept in conditions of minimum humidity while printing. Another new feature is the assisted auto-bed leveling process with a high-precision optical sensor for improved accuracy in the nozzle height calibration, for better first layer adhesion and printing performance.
Like all Raise3D printers, it comes with the robust ideaMaker slicing software and a workflow management software solution that, among other features, enables you to manage your printers remotely.ADVERTISEMENT
New Laser Powder Bed Fusion Machine for Production from Amace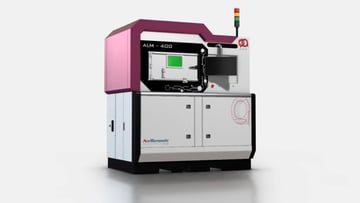 Amace, the 3D printing wing of one of the world's machine tool manufacturers Ace Micromatic Group, wants to bring affordable and fast metal production 3D printing to India. This week it launched its first 3D printer, which uses laser powder bed fusion (LPBF) to produce metal parts in stainless steel, maraging steel, aluminum, titanium, and Inconel.
The new ALM-400 has a large 410 x 410 x 450 mm build volume and is powered by two 1000 watt Yb- fiber lasers. The machine boasts a patent-pending multi-blade recoating system to ensure a uniform distribution of powder during the build. The ALM-400 also features a powder management system, in-situ inspection of part dimensions, automatic filtration system, user-friendly data display, and remote monitoring and control.
The ALM400's print control hardware and software has been developed in collaboration with Materialize. The machine comes bundled with a perpetual license of Materialise Magics https://youtu.be/kaF_xqFuTqg
Roboze Launches Huge Industrial FDM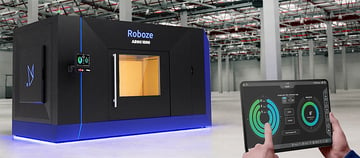 (July 16, 2021) How many engineering-grade polymer parts could you print in a square meter of print volume? Well, a lot. That's exactly what Italian printer manufacturer Roboze hopes will appeal to manufacturers about its new Argo 1000 FDM featuring a heated build chamber.
Roboze says large-volume production of high-performance polymers parts can reduce current pressures on global supply chains by rapidly replacing metal parts and critical components for extreme applications in key industries, such as aerospace, energy, transportation, med-tech, and automotive.
We haven't seen a heated chamber this large before because of concerns over how to maintain temperature consistency wall to wall. Roboze says it spent years in R&D perfecting its heated chamber to enable a homogeneous working environment aimed at consolidating the parts with a perfect thermal fusion of each layer in order to achieve exceptional mechanical properties.
As an industrial, production machine, the Argo 1000 comes with an automation system that enables you to program parts production, analyze data, and predict and resolve downtime to increase efficiency and mitigating the risks of printing failure.
Don't get too excited yet, the Argo 1000 won't be available until 2022.Buyer's GuideBest Industrial FDM 3D Printers 2021ADVERTISEMENT
Tiertime Steps Into Industrial Territory with UP600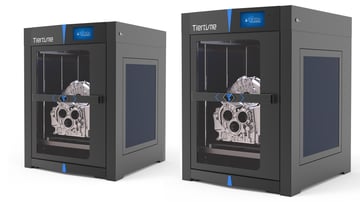 (July 7, 2021) In stealthy launch this week, Chinese 3D printer manufacturer Tiertime released its new UP600 large format, dual extruder FDM printer. At 400 x 500 x 600 mm, the UP600's build volume is more than twice as large as the company's popular UP300. And, with a heated build chamber and an extruder that can reach 300℃, you can now print with a wider range of engineering-grade materials.
The UP600 prints at up to 200 mm/second and its "adaptive layer thickness" enables it to print smaller layers only where they are required to produce fine detail. Different layer height variation ranges can be applied on a per model or per section basis.
Tiertime uses its own proprietary software, the UP Studio 3.0, which supports both dual and single material printing and offers granular print parameter control. Within a single print job, multiple models can be printed with different settings and each model can have designated sections with its own settings.
The UP600 also features a two-stage HEPA and activated carbon air filtration system, a flexible printing plate that magnetically attaches to the printing bed for easy removal of printed outputs.
Market price is around $10,000.ADVERTISEMENT
Ackuretta Launches New Plug & Play Dental Printer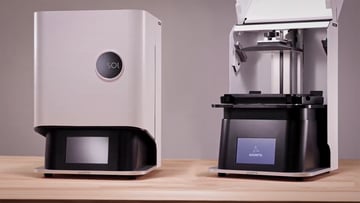 (June 30, 2021) Twianeese 3D printer manufacturer focused on the dental market, Ackuretta, this week released a new resin printer called the Sol retailing for $4,299.
Ackuretta says the Sol is "chairside" size, which aptly describes its tiny build volume (128 x 80 x 140 mm), but it does boast a pretty fast print speed of 4.5 cm/hr that you can attribute to its masked stereolithography (MSLA) technology. MSLA, you'll remember, uses projected light to cure an entire layer of resin at once, not laser curing point by point.
Ackuretta's singular focus on dental 3D printing, like others in this market, includes the printer, software, materials, and post-processing equipment for a full-package approach for dentists looking to offer same-day dental products. Plug and play 3D printing with machines ready to use out of the box is particularly valuable in the dental market. Ackuretta says the Sol does not need calibration, and its open material system with 100 pre-validated materials should give dentists an ideal mix of automation and flexibility.
It's unclear if the Sol will replace the company's current Dentiq dental printer that offers some of the same features. Both printers offer accuracy in the 47- to 49-micron range.
The Sol is expected to be available later this year. Preorders seem to be on sale currently for 42% off.ADVERTISEMENT
Aon3D Updates Aon M2 IDEX Industrial FDM Printer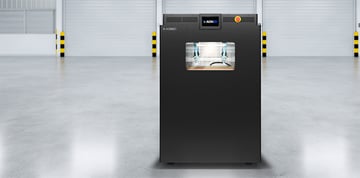 (June 24, 2021) If you're looking for an industrial, high-temp, FDM 3D printer with independent dual extruders for less than $50K, take a look at the just-upgraded Aon M2+ from Canadian 3D printer manufacturer, Aon3D.
Already a popular printer – and featured among All3DP's picks for best industrial FDMs – the Aon M2, which is now the M2+, was designed to bring full-scale and functional 3D printing in engineering-grade materials, such as PEEK and Ultem, to a wide audience, the company says.
All3DP spoke to folks at Aon3D about what's new in this latest edition, which is a step change, not a full redesign, so from the outside the machine looks exactly the same. Nevertheless the upgrades show the company is focused on continuous improvement.
First, the M2+ now features a higher-temp extruder (up to 500ºC) to more easily handle composite materials. There's also improvements to temperature control for consistent part properties, a new bed system that uses a heated vacuum build plate to enable faster cycle times and configurable adhesion properties via build sheet choices, and a completely new approach to automated bed calibration and leveling.
"The bed calibration is a kinematic probing system that triggers instantly using the same principles of a coordinate measuring machine (CMM)," says Aon3D CEO Kevin Han. "It's 10-times faster than before, and can compensate for extremely minor bed inconsistencies and variances in build sheet thickness."
Dual extruders would be assumed in any industrial FDM but the M2+'s IDEX is somewhat of a novelty. Yet, independent dual extruders are a necessity when working with two materials with significant differences in ideal extrusion temperatures since two hot ends together in the same print head can affect each other's temperature, says Han.
The M2+ features the same large build chamber (450 x 450 x 640 mm) and open material ecosystem as the M2.https://www.youtube-nocookie.com/embed/UAJD3K9ZwhY?start=1&feature=oembedADVERTISEMENT
Stratasys' New Desktop Multi-Material 3D Printer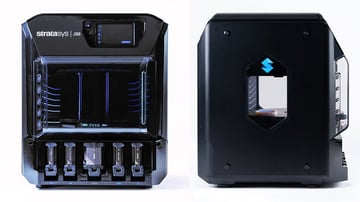 (June 14, 2021) Printer giant Stratasys this week introduced a new desktop-size polymer printer capable of producing prints in multiple materials. The J35 Pro 3D printer is aimed at designers and engineers looking for a machine capable of printing fully functioning models that feature a range of materials in one part.
With the J35 Pro, you can combine up to three materials at once pretty seamlessly, all on the same model part, on the same tray. Material options include the company's Vero UltraClear as well as rubber-like Elastico, the high-impact D-ABS, a rigid material called Vero, and another translucent resin called UltraClearS. The J35 is not a multi-color printer but can produce parts in a wide range of grey tones.
Just like the company's nearly a dozen other printers, the J35 Pro is a material jetting 3D printer using a technology Stratasys calls PolyJet. This technology uses a UV-cured liquid resin and an inkjet-like print head to distribute the resin onto the print bed. Because there are multiple print heads, different materials can be printed at once. The results are highly detailed parts in a matter of hours.
The J35 Pro is priced under $50,000 and expected to begin shipping in September.
If all this sounds great, but you want full color, check out the company's updated J55 released this week, now called the J55 Prime (under $100k with shipping expected in July 2021). The Prime version does everything the previous version did and features the same mind-blowing number of color possibilities (640,000 and 1,900 Pantones), but now it can print with a few new materials.
The new materials include the flexible Elastico Clear and Elastico Black for soft-touch printing that simulates the look and feel of rubber-like products; the engineering-grade high impact Digital ABS Ivory for molds, jigs & fixtures, and functional mechanical prototypes; the Vero ContactClear, which is a translucent material designed for prolonged skin or bodily contact such as medical devices, sport wear, or wearables; and finally the VeroUltra family of materials that create opaque colors that can simulate 2D-level graphics and text along with vibrant and accurate colors with better plastic simulation.
The J55 Prime targets product designers who can use the extraordinary product packaging simulation ability of the printer to eliminate the need for spray painting, silk screen, or gluing on labels. A new software update to the Stratasys GrabCAD Print includes a packaging solution compatible with the Stratasys J8 Prime, Stratasys J7 Series and Stratasys J55 Prime.https://www.youtube-nocookie.com/embed/TjB7E6N7znc?feature=oembedADVERTISEMENT
Industrial Delta FDM from TriLab
(June 10, 2021) The 600 mm print height on the new AzteQ Plus Industrial FDM printer from Czech 3D printer manufacturer TriLab, is bound to be one of the printer's key attractions. The AzteQ Plus and the smaller AzteQ (300 x 300 x 400 mm) are the first new professional printers from TriLab since 2019 and both feature the company's delta construction.
Setting the AzteQ apart from the company's older DeltiQ printer is a new closed and actively heated build chamber, which can reach up to 80⁰C. Paired with a heated bed and nozzles that can reach 400ºC, the AzteQ can print with engineering grade materials including ABS, ASA, PA (nylon), PC, and PP.
With an eye toward efficiency, TriLab introduced quick-swappable, magnetically mounted printheads and easy-out print pads. Both AzteQ printers have auto-calibration sensors, built-in camera monitoring, and remote access. An add-on that enables printing with up to eight materials or colors is expected later this year.
Available for pre-order now, the AzteQ Industrial's base price is around $9,700, while the AzteQ Industrial Plus is just over $10,000. Both machines are expected to ship in Q3 2021.https://www.youtube-nocookie.com/embed/tRkHj50KjXY?feature=oembedADVERTISEMENT
Stratasys Launches Office-Friendly Medical Printer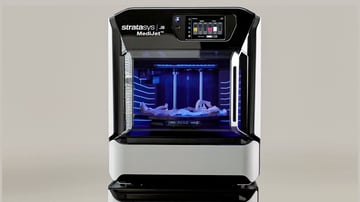 (June 3, 2021) Stratasys is looking to make medical model printing easier for hospitals to get into and maintain with a new medical-specific printer that not only offers multiple materials and colors in one, but uses regulator-approved software and biocompatible resins that can be sterilized. It ticks a lot of boxes for the medical segment of the market.
The J5 MediJet 3D printer is for facilities and labs that aim to print detailed 3D anatomical models, along with drilling and cutting guides, and also for medical device manufacturers, and med schools. The J5 MediJet is also compact enough for small lab spaces.
As with the other printers in the Stratasys J5 series, which includes the J5 DentaJet and J55, the J5 MediJet features the company's rotating build platform with a fixed print head. It can print with the Stratasys DraftWhite material and a full array of new flexible, rigid color, and transparent materials. MediJet models can be sterilized using steam, gamma, and EtO methods specific to the print material. Several materials are certified for limited contact to tissue and bone, and permanent contact to intact skin and for breathing gas pathways in healthcare applications.
The printer and materials are available now. Market price was not announced but is likely in the $70,000 to $90,000 range.https://www.youtube-nocookie.com/embed/BSFwS9mioHk?feature=oembedADVERTISEMENT
New Large-Format Metal Printer from Farsoon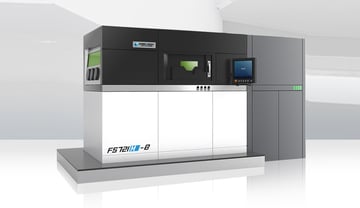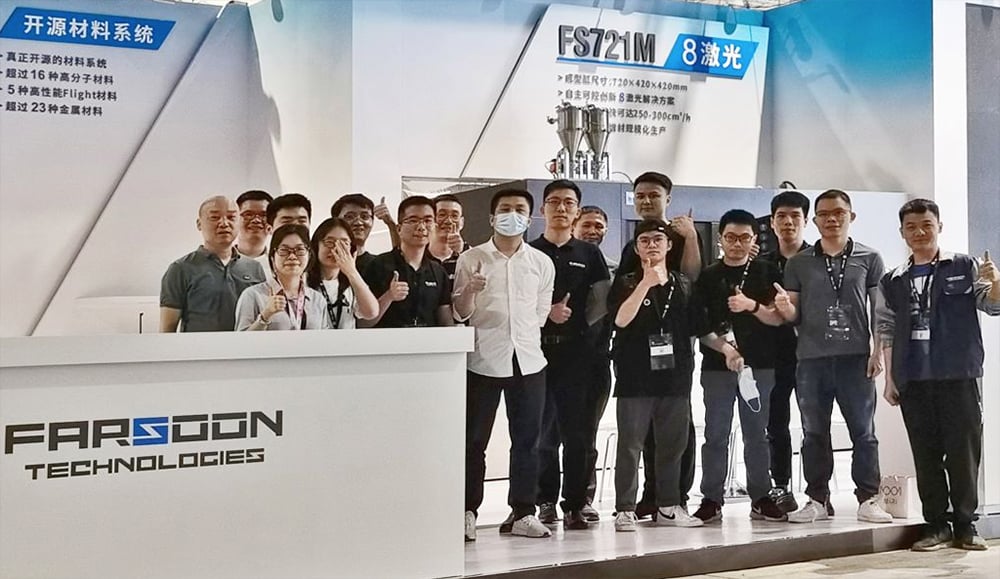 (May 26, 2021) The biggest new product news to come out of this week's TCT Asia trade show in Shanghai, China, (the second-largest additive manufacturing Expo in the world after Formnext) was likely the new large-format metal powder bed fusion printers from China-based Farsoon Technologies.
The company, a manufacturer of industrial-level polymer and metal laser sintering systems with a growing international following, has four other metal printers, but the new FS721M-8 is by far the largest, with a build volume of 720 x 420 x 420 mm and eight 1000-watt fiber lasers.
Farsoon says they've spent the past three years working on this large, multi-laser platform designed to address industrial, production-level metal additive manufacturing.
The company also introduced the similar-size, FS721M metal platform offering dual and quad 500-watt fiber laser options for limited commercial orders. With the dual laser configuration, the FS721M can achieve a build rate of up to 160cm3/h while the quad laser option's speed is around 90cm3/h. Although Farsoon says these metal options are affordable, they did not immediately release the price, which can safely assumed to be in the +$250,000 range.Farsoon staff at the 2021 TCT Asia expo (Source: Farsoon)
Also, at TCT Asia, Farsoon deputed three new polymer powders for use in its line of SLS machines, a PA 12-based powder, a glass-bead reinforced PA 12 powder, and a Infinam PA 6005 from chemical maker Evonik.ADVERTISEMENT
AddUp Launches FormUp 350 Modular Metal 3D Printer
(May 27, 2021) French company AddUp, known for its directed energy deposition metal printers, this week debuted a metal powder bed fusion 3D printer, the FormUp 350. This modular and scalable machine offers up to four 500-watt lasers where each laser covers the entire platform surface. This feature offers more freedom during build preparation, the company says.
Focusing on speed and efficiency, AddUp says the FormUp 350's bidirectional coating system spreads powder 40% faster than single-spreader solutions, its chamber only takes 15 minutes for a complete inerting of the enclosure, and its cooling system allows parts to be unloaded in about 2 hours (compared to 12.5 hours without active cooling).
The machine has a build volume of 350 x 350 x 350 mm, and is said to be suitable for all types of metal powders with fine or medium granulometry, including titanium and aluminum alloys. The base price was not yet released.ADVERTISEMENT
Essentium Launches New Industrial FDM with IDEX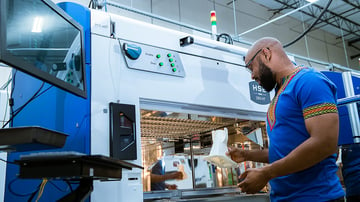 (Apr. 27, 2021) Boasting some innovative new features not seen on other industrial-grade, high-temperature FDM 3D printers, the HSE (high speed extrusion) 280i HT from US-based Essentium is aimed at high-volume factory customers. In fact, Essentium CEO Blake Teipel told All3DP this week that the machine is "designed to be a true manufacturing system" with innovations that will underpin most of the company's future growth.
Take for example the heated build chamber that heats the part, not the entire chamber, with inferred energy that's more tune-able and accurate, plus uses less overall energy. More impressive though, is the dual independent exturders that are actually independent on both the Y and X axis. This enables the printer to create different parts at once, such as two sides of a mold, in its massive build chamber (695 x 495 x 600 mm).
The HSE 280i HT, which will retail between $150,000 and $200,000, targets shops that want to achieve more with multi-material printing, says Teipel, but still be easy to use. The extruders can reach a maximum nozzle temperature of 550 ºC and the print speed is around 500 mm/s. The company also launched a new 20% carbon fiber-reinforced polypropylene filament to compliment its open ecosystem of materials.
There's no proprietary software to learn since Essentium partners with Materialise and Simplify3D.AM Innovation"True" IDEX 3D Printer Brings New Capabilities to Industrial AMADVERTISEMENT
Massivit 3D Launches Massivit 5000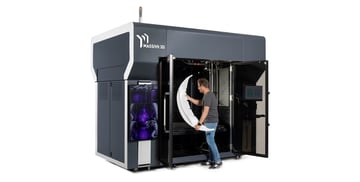 (May 2, 2021) Massivit 3D Printing Technologies, the Israeli manufacturer of large-volume industrial 3D printers, unveiled its newest printer offering faster printing while being the same massive size as its two other printers; an impressive 1,450 x 1,110 x 1,800 mm.
The Massivit 5000 features the company's gel dispensing printing technology that extrudes photopolymer gels at high speeds before curing them into solid layers under UV light. The new printer is aimed at the automotive, marine, and rail industries' need to reduce lead times for large parts, prototypes, and tooling.ADVERTISEMENT
Titan Robotics' New FDM 3D Printer and CNC Machine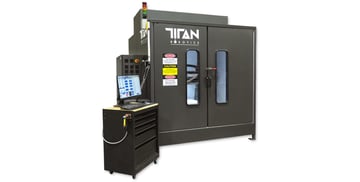 (May 2, 2021) Titan Robotics, the Colorado-based company that also specializes in large-scale 3D printing solutions for a variety of industries, unveiled its new Atlas-HS multi-head hybrid FDM 3D printer and CNC machine. The company has incorporated the pellet extrusion system seen on its line of Atlas 3D printers with a 3-axis milling system.
The Atlas-HS features a heated chamber for printing high-performance polymers, including carbon fiber-PEI, glass fiber-PEKK, and nylons. With print volume of 1,270 x 1,270 x 1,829 mm, the Atlas-HS gives industrial customers the option to incorporate both Titan's pellet and filament extruders on the same gantry.
"The Atlas-HS industrial users to 3D print a near-net-shape part with pellet extrusion and then post machine it to meet final part requirements, as well as produce complex geometries with in-situ machining capabilities," says Bill Macy, Titan Robotics' CTO.https://www.youtube-nocookie.com/embed/-BYVclxuaSE?feature=oembedADVERTISEMENT
Stratasys Debuts New Large-Format FDM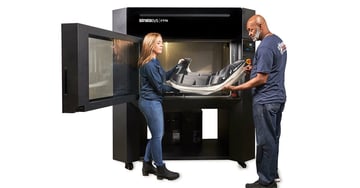 (Apr. 27, 2021) Stratasys this week launched a new large-format FDM 3D printer featuring a huge 1000 x 610 x 610 mm build volume. Priced under $100,000, the new F770 is bound to appeal to a wide range of manufacturers.
The F770 prints ivory ASA or black ABS-M30 and a soluble support material to enable parts with complex internal structures to be designed and printed with minimal post-processing, the company says. The F770 features integrated GrabCAD Print software for a CAD-to-print workflow, plus the GrabCAD Software Development Kit, which is a complete set of APIs, sample code, documentation and support, for customers and independent software vendors to facilitate integration with other "smart factory" solutions.
In fact, one stand-out feature of this machine – and its inevitable appeal to manufacturers looking for a production FDM printer – is the connectivity through the Stratasys' MTConnect software that enables 24/7 operation through mobile device monitoring, a built-in camera, and up to 140 hours of unattended printing.
Stratasys says the F770's key applications include large jigs and fixtures, large functional prototypes, such as vehicle panels, and large trays full of small production parts. The printer is available for orders now and is expected to ship in late June.ADVERTISEMENT
UpNano Launches Bioink and Printer for 3D Printing of Living Cells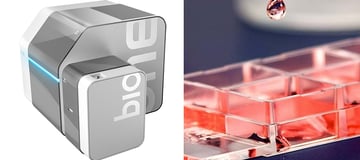 (Apr. 13, 2021) Austria based UpNano has developed a two photon 3d printer and a hydrogel-based bioink that enables direct printing of 3D structures containing living cells at both the meso- and microscale.
The NanoOne Bio is a printer based on the company's NanoOne range of laser-powered printers that are able to build structures across 12 orders of magnitude. The new hydrogel has been developed with Xpect INX from Belgium. It is the only commercially available resin that allows embedding living cells straight from a culture plate within 3D printed structures for biological applications.
Research showed that the NanoOne Bio printers laser is not harmful to living cells, even at the exceptionally high power used by the NanoOne printers.
UpNano says the combination of X Hydrobio INX U200 and the NanoOne Bio opens up new possibilities in biomedical R&D, both in industry and academia enabling pharmaceutical companies and research institutions to design cell models that mimic natural growth conditions in the human body.
The NanoOne Bio retails for around $500,000ADVERTISEMENT
New Ceramic 3D Printer from Lithoz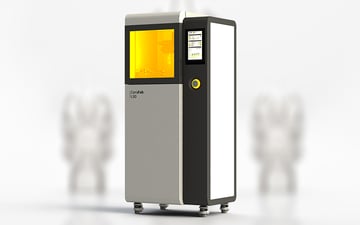 (Mar. 15, 2021) Accompanying the rise in 3D printed ceramic parts in aerospace, medical, and industry, you can expect a rise in ceramic 3D printers. The latest to hit the market is the CeraFab Lab L30, from Austrian manufacturer Lithoz, a company that has been making ceramic 3D printers for nearly a decade.
This smaller, shop floor-friendly 3D printer is designed to accelerate the adoption of 3D printed ceramics as a starting point for ceramic 3D printing, the company says. Ideal for research labs and companies looking to experiment with customized first-part and small-scale production ceramic solutions, the L30 can print with a range of technical ceramics, including aluminum oxide, zirconia, silicon nitride, and beta-tricalcium phosphate.
The technology behind the L30 is lithography-based ceramic manufacturing (LCM), which involves a ceramic slurry and LED light. Printer parts then require debinding and sintering to produce ceramic's characteristic hardness and high heat resistance.
The L30 boasts a 76 x 43 x 170 mm build volume, a minimal layer height of 50 microns, and runs on Lithoz's new CeraFab Control database-driven software platform.
The L30 retails in the just under $200,000 range.ADVERTISEMENT
Fortify Expands Line of Filled-Resin Printers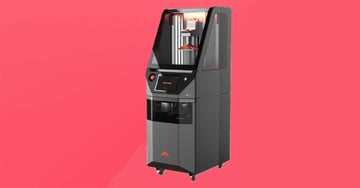 American 3D printer manufacturer Fortify launched two new digital light processing (DLP) printers this week, the Flux Core and the Flux 3D, that both feature its novel approach to photopolymer additive manufacturing.
Digital Composite Manufacturing (DCM) is a filled-photopolymer technology that introduces functional additives, such as metal and ceramic fibers, to resin. The company's patented processing technology, Continuous Kinetic Mixing, keeps the additives homogeneous in the resin, while its magnetic alignment technology, Fluxprint, uses a magnetic field across the build area to align all fibers in the layer.
Flux Core, the company's new baseline 3D printer is designed to process a range of viscous particle-filled resins where magnetic alignment is not required. The Flux 3D is a version of the Flux Core with the Fluxprint 3-axis magnetic field.
In addition to the hardware solutions, Fortify unveiled its Flux Developer software platform that can be used on any of the Flux printers. Flux Developer gives users an expanded processing window, so they can control variables, such as exposure time and intensity, material flow, resin temperature, and viscosity, and even the build plate mechanics, as they develop and onboard new materials.
Fortify's printers range from under $100,000 to just over $200,000 depending upon options and are available in the US this year with a planned global expansion to follow in 2022.ADVERTISEMENT
Nexa3D Launches Large-Format Dental Lab 3D Printer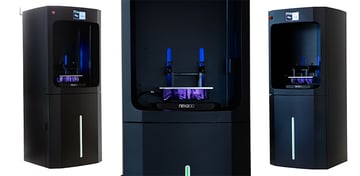 California-based Nexa3D launched a new dental lab resin 3D printing system this week that is compatible with Keystone Industries' KeyPrint range of dental resins. The NXD200 is equipped with a 8.5-liter build volume (measuring 275 x 155 x 200 mm) and features the NexaX v1 software for build processing and printer management, and Materialise's MagicsPrint for auto-nesting and auto-support generation.
Nexa3D says its new machine is designed to boost lab productivity with high speed and large format. "NEXA's dental printers offer dental labs new options to create high-quality dental devices and restorations with fast turnaround times," said Keystone Industries' dental division president, Ira Rosenau. "We look forward to providing NXD200 users with Keystone's growing line of KeyPrint resins to offer a superior user experience on NEXA's high-speed platforms."
As with the company's other photopolymer systems, the new NXD200 is powered by Nexa3D's proprietary Lubricant Sublayer Photo-curing (LSPc) technology.ADVERTISEMENT
Stratasys Launches H350 Production Printer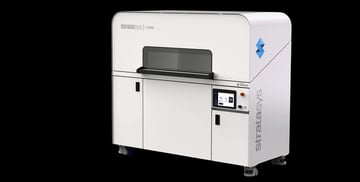 (April 28, 2021) Stratasys Ltd. today introduced the Stratasys H350 3D printer, designed specifically for end-use parts production. Powered by SAF technology, the new H350 printer is designed to give manufacturers consistency, a competitive and predictable cost per part, and complete production control for volumes of thousands of parts.
Stratasys shared details about SAF technology in March. The industrial-grade additive manufacturing technology executes key 3D printing steps in the same direction across the print bed to provide a uniform thermal experience – and therefore part consistency – for all printed parts regardless of their placement in the build. SAF can also contribute to lower operational costs and increase their predictability. For example, the Big Wave powder management system reduces powder aging, while the warranty-protected industrial piezo-electric print heads have been designed to require no regular replacement.
The H350 is designed to meet the needs of customers in industries such as commercial goods, automotive, and consumer goods and electronics that benefit from the ability to quickly produce large volumes of 3D-printed parts with compelling and predictable economics. Service bureaus and contract manufacturers also benefit from the industrial-grade performance of the system. Applications include end-use parts such as covers, connectors, hinges, cable holders, electronics housing, and ducting.
The printer is expected to ship in Q3 of 2021.ADVERTISEMENT
Fabbrix Debuts Large-Format Industrial FDM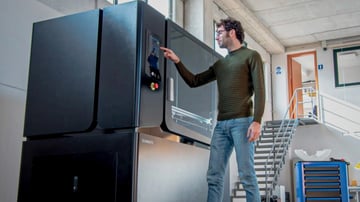 If you fell in love with the Italian-made Elemento large-format printer when you first laid eyes on it in 2019 at the MECSPE Expo for Italian manufacturing, now you can finally have one. After three years in development, the Elemento V2.1 may just be worth the wait.
With a large print volume (1000 x 560 x 530 mm), a heated build plate to 100 °C, and a nozzle temp up to 300 °C, this dual-extruder industrial machine features an open-materials system and is capable of printing with nylon carbon fiber, PET, nylon glass fiber, BVOH, and more. Fabbrix also manufactures a wide range of filament for the printer.
Large, but built for workshop environments, the Elemento features an air purification system fitted with a HEPA filter.
Fabbrix is the division of Crea3D, the large 3D printer and materials reseller, that deals with research and development. The Elemento retails for just under $33,000.https://www.youtube-nocookie.com/embed/GTFp_Xdhh00?feature=oembedADVERTISEMENT
Trumpf's New TruPrint 3000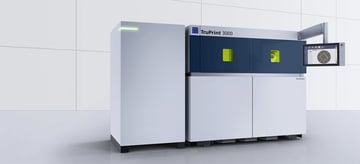 (March 18, 2021) German manufacturer Trumpf unveiled the new TruPrint 3000 3D printing system that uses powder-bed-based laser melting to produce metal parts with a diameter of up to 300 millimeters and a height of up to 400 millimeters.
The machine can handle all weldable materials including steels, nickel-based alloys, titanium and aluminum.
"We've improved key aspects of the TruPrint 3000 to tailor it even more closely to the quality requirements, certifications and production processes of various industries," says Klaus Parey, managing director of Trumpf Additive Manufacturing.
The new TruPrint 3000 can be equipped with a second laser that almost doubles its productivity. Two 500-watt lasers scan the machine's entire build chamber in parallel. This makes production much faster and more efficient regardless of the number and geometries of the parts. With each laser scanning a contour, the process does not lead to any kind of weld seams. This is what allows multilaser parts to meet such outstanding quality standards.
Higher quality thanks to improvements in inert gas supply and melt pool monitoring
Trumpf modified the inert gas flow through the TruPrint 3000 so it flows through the machine from back to front in a more uniform fashion. This leads to better quality of printed parts, the company says, as it also allows the operator to remove excess powder from the part while it is still inside the machine. Previous models required the operator to take the part out and remove the powder at a separate station.
The new machine is designed to process the powder in a shielded environment, using an inert gas to prevent the powder from becoming contaminated during the build. This is a major advantage for sensitive industries such as medical device manufacturing.
The new TruPrint 3000 also comes with a melt pool monitoring function. This safeguards the quality of the part during 3D printing by automatically monitoring melt pool emissions and other metrics during the process. Special sensors in the laser optics continuously monitor the melt pool. A special piece of software compares these readings to the figures for a reference workpiece stored in its database and presents a graphical display of any deviations, such as a melt pool that is too cold or too hot. This gives machine operators the information they need to detect any errors and take whatever action may be necessary.ADVERTISEMENT
New Mass-Production EBM Machine from JEOL
Tokyo-based JEOL, one of the world's largest manufacturers of industrial and medical equipment, just released an electron beam melting (EBM) metal 3D printer it says enables mass production of high-quality parts.
The JAM-5200 EBM printer features higher power, higher density, and higher speed than other EBMs on the market, JELO says. The machine features a helium-free environment, so not only can parts be manufactured in a clean space at a low cost, but the surface of the cathode is also less susceptible to damage, allowing the electron beam to remain stable. The machine's cathode lasts more than 1,500 hours.
JELO's JAM-5200 EBM incorporates technology for automatically adjusting the focus and the distortion of the electron beam, which was developed in its electron microscope and electron beam lithography system for semiconductor manufacturing.https://www.youtube-nocookie.com/embed/wN3Uzq6znJw?feature=oembedADVERTISEMENT
Stratasys Introduces J5 DentaJet 3D Printer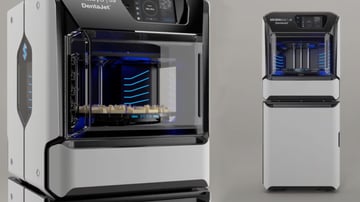 (Mar. 9, 2021) Stratasys today introduced a new 3D printer that gives dental labs 3D printing efficiency paired with PolyJet's realism and precision. The J5 DentaJet 3D printer is the only multi-material dental 3D printer, enabling technicians to load mixed trays of dental parts. The new 3D printer can produce at least five times more dental parts on a single mixed tray than competitive 3D printers, yet its compact footprint consumes only 4.6 sq. ft (.43m2) of floor space.
The multicolor, multi-material J5 DentaJet also produces 3D-printed case presentations with realism previously only possible using time-consuming wax models. Now, designs can be produced digitally in a few hours. The high resolution of PolyJet materials means dentists can seat crowns and bridges in minutes due to the accuracy of the models – to 18.75 microns, or less than half the width of a human hair.ADVERTISEMENT
Desktop Metal Launches Printer-to-Sinter Metal Option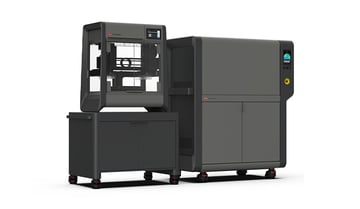 (Feb. 2, 2021) Desktop Metal today announced the launch of Studio System 2. Designed for the office, this latest version of the Studio System enables high-quality metal parts production in an office environment with a simplified two-step solution that eliminates the need for a solvent debind phase.
The next-generation Studio System 2 retains all the critical features of the original Studio System, while delivering advancements that make metal 3D metal printing even easier, more reliable and accessible. Benefits include:
Breakthrough, two-step process. Studio System 2 eliminates the use of solvents with all-new material formulations that allow parts to be transferred directly from the printer into the furnace. The result is an accessible two-step process with a nearly hands-free experience that also reduces consumables usage and overall system footprint.ADVERTISEMENT
Formlabs Launches Fuse 1 SLS Printer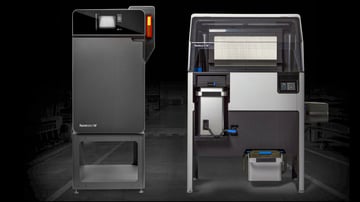 (Jan. 26, 2021) Formlabs, a leading 3D printing company, today announced the launch and general availability of the world's first benchtop industrial selective laser sintering (SLS) 3D printer, the Fuse 1, to enable engineers, designers, and manufacturers at all levels to rethink product development, hybrid manufacturing, and end-use production. Additionally, the company launched Fuse Sift, a post-processing system for the Fuse 1, and Nylon 12 Powder, Formlabs' first powder material for Fuse 1, to provide users with a straightforward end-to-end SLS workflow.
Author :by Carolyn Schwaar
source:https://all3dp.com/1/professional-printer-and-material-launches/