Uncategorized
A collaboration between SmileDirectClub and HP will bring straighter smiles to millions of customers as the former becomes the largest Multi Jet Fusion 3D production partner in the US with 49 continuously-operating HP MJF 3D printers. With the fleet of advanced 3D printers, they'll be able to produce almost 20 million unique mouth molds every year. The orthodontics industry has grown to $12 billion, and with this move SmileDirectClub is signaling that they plan to take a large slice of the clear aligner market pie.Related Story3 Ways 3D Printing is Revolutionizing Digital Dentistry
"SmileDirectClub is digitally transforming the traditional orthodontics industry, making it more personal, affordable, and convenient for millions of consumers to achieve a smile they'll love," said Alex Fenkell, Co-founder of SmileDirectClub. "HP's breakthrough 3D printing and data intelligence platform makes this level of disruption possible for us, pushing productivity, quality, and manufacturing predictability to unprecedented levels, all with economics that allow us to pass on savings to the consumers seeking treatment using our teledentistry platform."
SmileDirectClub has already served over half a million customers with their clear aligner solutions, so they're well positioned to leverage the rapid manufacturing capabilities of HP's Multi Jet Fusion technology.
The business model of SmileDirectClub is solid because, of the 80% of Americans who could benefit from orthodontic care, only 1% receive it, either because they can't afford it or they live in one of the 60% of US counties that don't have an orthodontist. Using 3D printing and tele-dentistry, SmileDirectClub can offer affordable teeth straightening services to those who otherwise wouldn't have access to orthodontic care.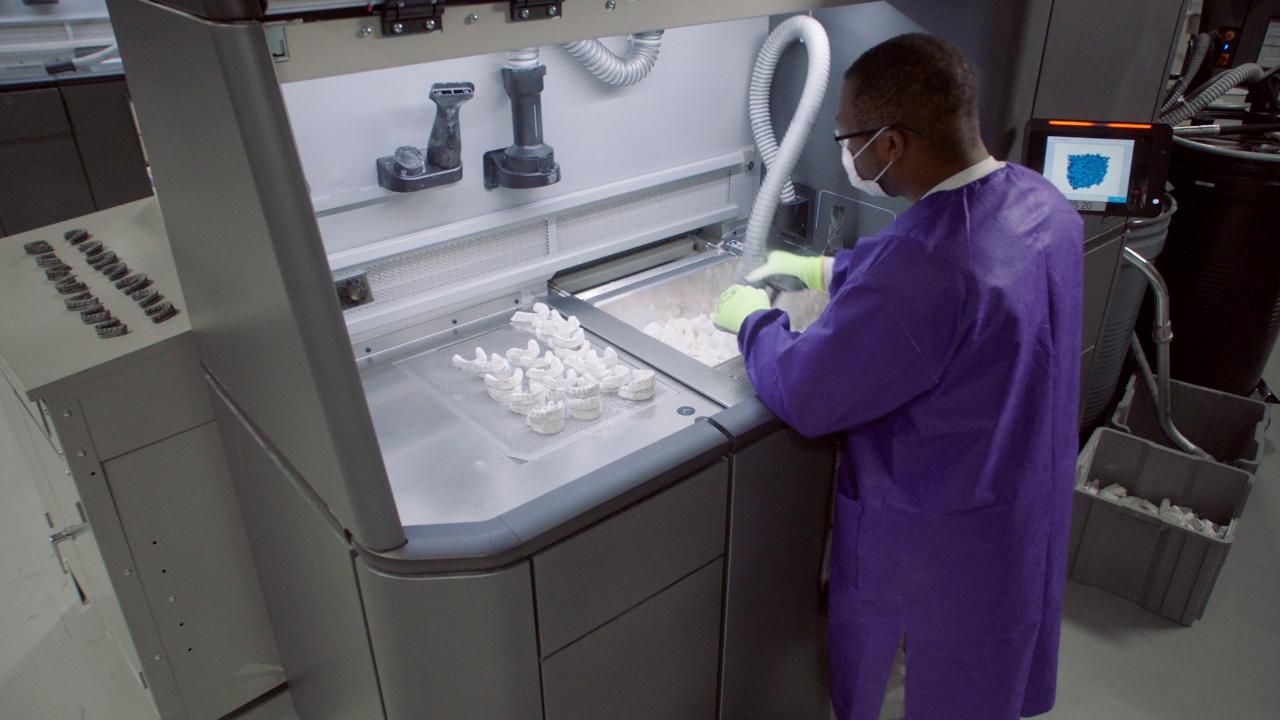 "SmileDirectClub and HP are reinventing the future of orthodontics, pushing the boundaries of customized 3D mass production and democratizing access to affordable, high-quality teeth straightening for millions of people," said Christoph Schell, President of 3D Printing and Digital Manufacturing at HP. "Through this collaboration, HP is helping SmileDirectClub accelerate its growth, enabling a new era of personalized consumer experiences only made possible by industrial 3D printing and digital manufacturing."
They're also launching a recycling program to reprocess the used molds into pellets for traditional injection molding applications. That's an important program considering how many mouth molds will be produced to be only temporarily used.
Author: Phillip Keane
Source: https://3dprinting.com/news/smiledirectclub-uses-hp-multi-jet-fusion-3d-printers-to-make-50000-mouth-molds-a-day/