American company Sciaky, Inc. has announced that it will be delivering the world's largest electron beam directed energy deposition (DED) 3D printer to Turkish Aerospace Industries (TAI). The customized 300 Series Electron Beam Additive Manufacturing (EBAM) system will be used in a series of projects designed to optimize the use of the machine in collaboration with Sciaky. Ultimately, TAI hopes to create some of the largest titanium aerostructures in the industry.
Turkish Aerospace Industries (TAI) is a Turkish-US joint investment company that was first launched under the Ministry of Industry and Technology in 1973. Though the original goal of the company was to reduce Turkey's foreign dependence in the defense industry, since 2005 it has become according to them, "Turkey's technology center for the development, modernization, manufacturing, system integration and lifecycle support of its aviation and space programs." And it is certainly  not the first defense or aviation company to turn towards additive manufacturing. In fact, in the United States alone, there has been immense growth in both military 3D printing, including for the air force, and in AM in the aerospace sector. Now the company will own their own large-format DED printer from Sciaky to accomplish their goals.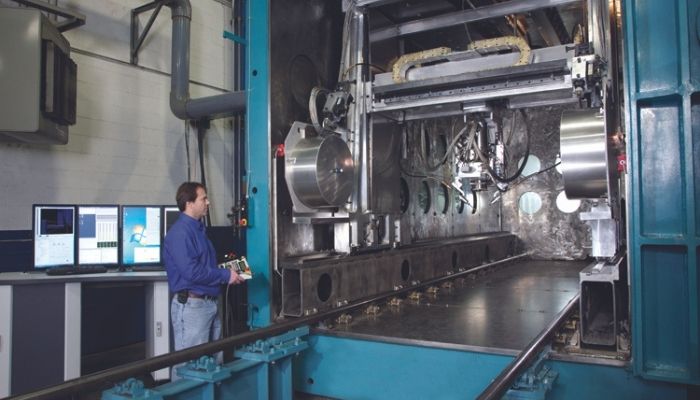 According to Sciaky, the EBAM 300 is the largest, currently available metal additive manufacturing system. It's dimensions are immense, measuring 300″ (7620 mm) x 120″ (3048 mm) x 120″ (3048 mm) with a build range of 240″ (6096 mm) wide x 47″ (1194 mm) deep x 60″ (1524 mm) high. The technology is is an offshoot of DED, which is often used for large-format metal 3D printing as it allows for a larger range and greater flexibility. In this case, Sciaky also notes that the machine's precisely controlled beam geometry allows for better energy distribution and thus greater repeatable performance, certainly important in an industry like aerospace which must be able to qualify parts. Furthermore, in this 3D printer, an Electron Beam Welder (EBW) will be included, allowing TAI to combine welding and 3D printing for applications that may need both.
Thanks to this new printer, TAI will now be able to metal parts ranging from 8 inches to 20 feet in length using AM. Scott Phillips, President of Sciaky, Inc. concluded: "Sciaky's EBAM systems are the most widely sold, large-scale DED metal 3D printers in the world, having approved parts on land, sea, air, and space applications. We applaud TAI's vision for innovation and their ambitious plans to 3D print some of the largest titanium aerostructures in the world." You can find out more in the press release HERE.
*Cover Photo Credits: Turkish Aerospace Industries (TAI)
Author: Madeleine P.
Source: https://www.3dnatives.com/en/turkish-aerospace-industries-sciaky-260120225/