Uncategorized
New York-based fashion design company Simplifyber has just received 3.5 million USD in seed funding to continue development of their range of footwear and clothing.
What is novel about the company is the material process they are using to create their fabrics. These fabrics are molded, not woven and stitched together, and they are molded from a mix of plant matter and other biodegradable materials. You can see the shoe in the image below.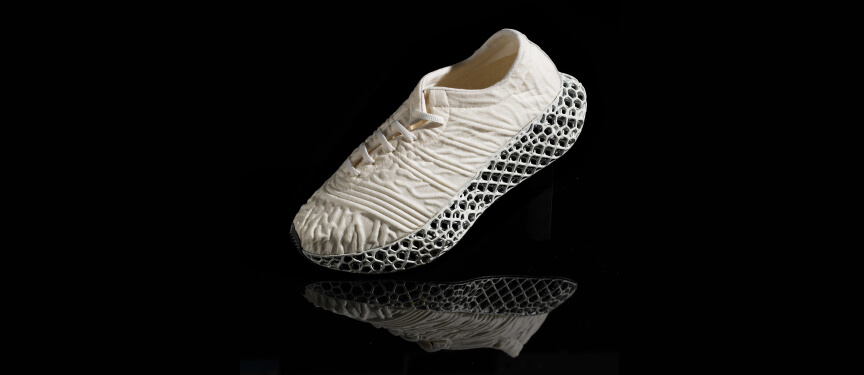 First up, you will notice that the sole is clearly made with additive manufacturing, and this sole has been printed with the collaboration of HP, presumably on one of their MJF machines.
But the real innovation lies in the shoe upper (the bit that covers the foot).
This is the molded fabric, and it is produced with a means partly inspired by traditional paper making techniques.
Like papermaking, the fabric starts as a pulp of wood and other additives and is all mashed together creating a slurry. In traditional papermaking, this slurry would be poured into a frame and dried over time forming a piece of paper.
With the Simplifyber material, the cellulose-based liquid slurry is injection molded into 3D printed molds, where it forms the shape of the garment and solidifies as it cures.
Curing is permitted thanks to the crosslinking of food-based waste (presumably some kind of starch) and it sets to form a material that has the same handling qualities as leather.
"I saw how additive manufacturing (e.g., 3D printing) was disrupting nearly every other industry, but not in fashion. I set out to find the people that could make this a reality," said Maria Intscher-Owrang, co-founder and CEO at Simplifyber.
"We discovered a way to create clothing using soft plant fibers. We start with a liquid cellulose – made in a lab, not in a mill – which is then poured on specially-designed molds and dried, eliminating fabric waste altogether and allowing on-demand, stock-free service."
The result is a fabric that removes spinning, weaving, cutting, and sewing from the manufacturing process, cutting out 60% of the steps and reducing the 35% of materials in the fashion supply chain that ends up as waste. And being biodegradable naturally contributes to waste reduction also. It can also be recycled as paper or plastics.
"With its single-step process for clothing making, Simplifyber has the potential to beat the unit economics of polyester, becoming an economically and environmentally viable solution against plastic waste," said Laurie Menoud, Partner, At One Ventures who led the round of seed funding.
"We're looking forward to partnering with the team to bring this solution to scale. We believe Simplifyber could be the apparel of the future: They are not only beautifully designed but have a low carbon footprint and are price-accessible, which is a significant differentiation from other sustainable clothing brands."
You can read more about Simplifyber and keep an eye out for their product releases over on their website. Press materials state that the products could hit the shelves as early as this year.
Author: Phillip Keane
Source: https://3dprinting.com/news/plant-based-am-molded-shoes-get-funding-boost/