Uncategorized
A team from Washington State University (WSU) has just received funding from the Cougar Cage to develop their process for converting waste PLA into brand new PLA resin for SLA and other photopolymer printers.
Cougar Cage, for those curious, is the WSU equivalent of Shark Tank/Dragon's Den, but for WSU staff, students and faculty. That is, it's a contest where entrepreneurs pitch to investors to get their ideas off the ground in the style of the TV shows.
One team has focused on the chemical recycling of PLA plastics, and for their efforts, they have made it through three rounds of the contest and been awarded with $50,000 of funding which will help the team develop the process to create new PLA resins from scrap.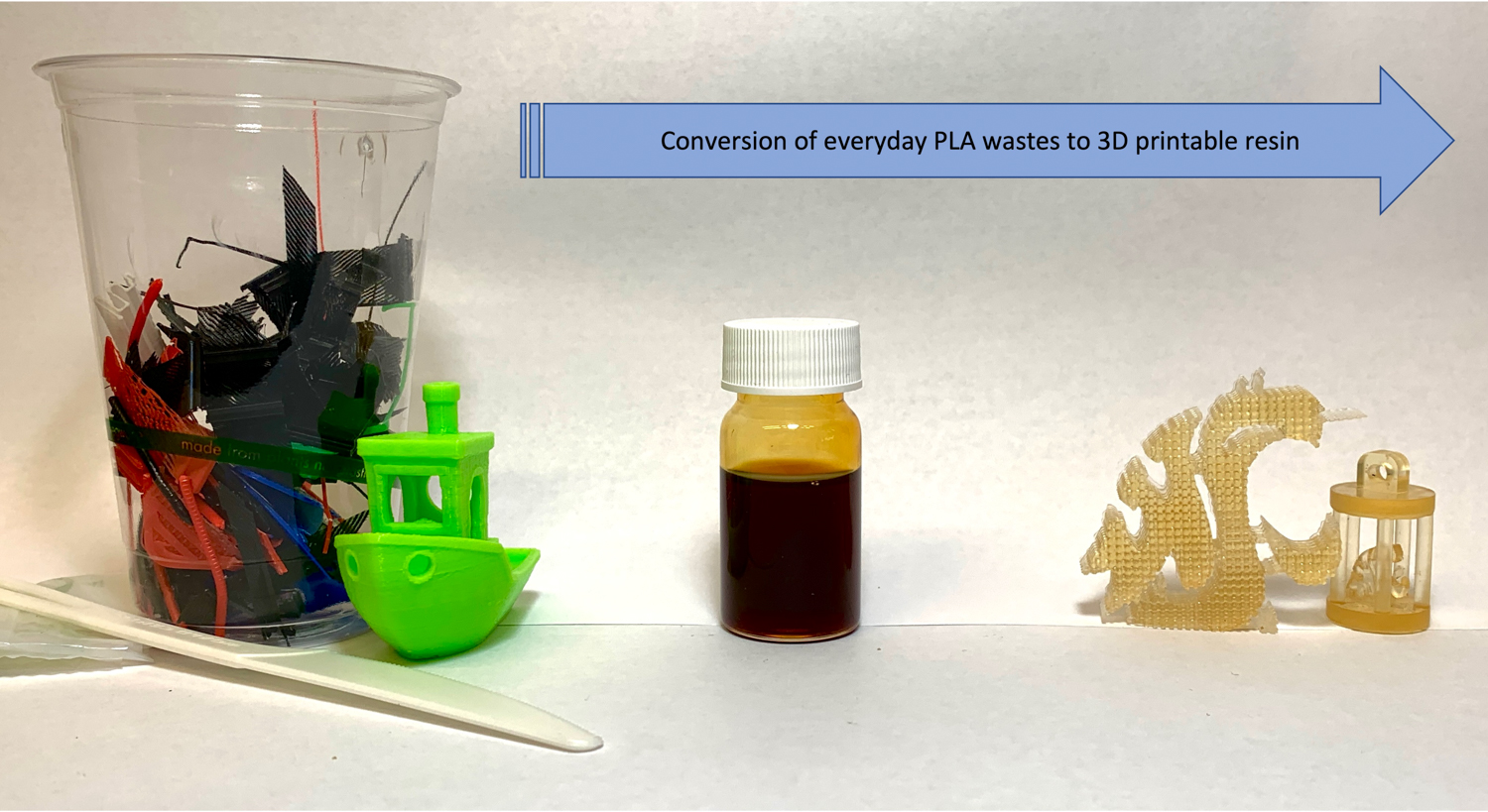 The focus is to find alternative means of recycling PLA, because as we all know by now, it's not exactly the most easily biodegradable of plastics, despite being a biopolymer.
"If you dump [PLA plastics] in a landfill, it could take a long time for them to degrade compared to a water bottle," said Yu-Chung Chang, postdoctoral research associate and leader of the project team at WSU.
"The fact that it is biodegradable does not mean we should just toss it out randomly. That is how this project came to be."
"The reason we started with PLA plastics is [because] it is a rising bioplastic derived from cornstarch and sugar, and these are valuable food sources. We do not want to turn it into plastic, use it and then toss it away as that is not economically viable. We will make it into something more valuable."
This is good news for the 3D printing community who generates plenty of waste PLA through scrap filaments and failed prints. Any move to create further options for plastic recycling in general should be welcomed. It was estimated that a mere 8.7% of all plastic waste was recycled in 2018 in the US.
The world could probably do with improving that figure a little. And this process may be one way of raising that miserly sum.
"[In] chemical recycling, we also deem it upcycling. We break down the molecule structure into small molecules and rebuild a new polymer material from the small molecules," said Jinwen Zhang, professor for the School of Mechanical and Material Engineering at WSU.
"What we have learned from this project is [PLA] applies to other polyesters," he said. "[Our knowledge] is generally applied to manage similar polyester-type polymers. We set up a new framework for depolymerization of the polyesters."
The team hopes that they will generate more interest in the project after the Cougar Cage event which will attract more funding for further development and scaling.
Author: Phillip Keane
Source: https://3dprinting.com/news/startup-gets-boost-to-turn-scrap-pla-into-resin/